New Book Studies Jameis Winston & Media
July 17th, 2019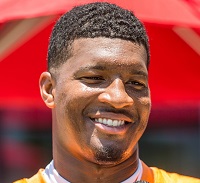 There are fans and there are super fans.
And then there are those who write 404-page books in defense of one of their favorite players.
If you have a load of time on your hands and $18.95, you can head to Amazon and own Jameis Winston Derangement Syndrome: How Media Bias Causes Us to Overlook The Start of a Hall of Fame NFL Career.
Ex-Bucs receiver Jacquez Green has endorsed the book, which is the latest writings of author "Jameis1of1," and there's also a foreword by Otis Leverette, a personal trainer of Jameis.
Joe has not read the book and has no plans to do so. The author advised Joe that it's not the kind of publication that includes original interviews of players or coaches; it's mostly a deep look at the media's treatment of Jameis, as well a giant stack of statistical research and era-adjusted data not found anywhere else.
The author has blasted JoeBucsFan numerous times online, so the legions of Joe haters might really enjoy this new book.