Bill Cowher Talks To Joe
July 17th, 2019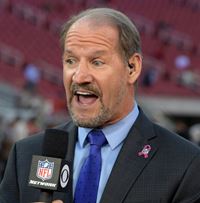 One man who has both a Super Bowl ring and is a former employer of Bucs coach Bucco Bruce Arians is liking how the Bucs pulled his old comrade out of retirement and gave him the reins of the team.
That would be Bill Cowher.
Joe is cleaning out his voice recorder of interviews with several NFL big shots earlier this year. Joe had a chance to talk to Cowher just a couple of weeks after the Bucs hired Cowher's former wide receivers coach.
JoeBucsFan: Bill, you coached with Bruce Arians a long time ago and you have a strong connection with him. You have to have some Bruce Arians stories. Tony Dungy has already remarked how his players and Dungy's defensive backs used to get after it back in Kansas City.

Bill Cowher: Bruce and I go way back to when we coached in Kansas City with Marty Schottenheimer. I was the linebackers coach [and defensive coordinator] and Bruce was coaching running backs. We always had some very good battles between Derrick Thomas and Christian Okoye in terms of pass protection. [Cowher flashes a cat-ate-the-canary smile.] The greatest thing is that when he became available after a few years with the Browns he came down to coach our receivers [in Pittsburgh]. Bruce is — does a great job relating to the players. He has a very good offensive mind. He's a good teacher. He has a good feel for the league and the trends that take place. I think [the Bucs] are in really, really good hands. He has a good staff. If you look at the staff he put together, a lot of the key coaches played in the National Football League. I think that is a really big key because I think players relate to people that have been there before. So that is one thing I like about the staff he has put together.
Cowher then went on to tell Joe that Arians and his running backs (namely Barry Word and Okoye) would often battle Cowher and his linebackers (like Dino Hacket, Chris Martin and Thomas) and it would be like a little war between the two coaches, like a game within a practice.
And you know what, Joe likes that kind of an attitude and hopes that mentality rubs off on Arians' assistants with the Bucs. You know why? If guys are that fired up and that intense and that competitive in practice, it is going to carry over into games.
Schottenheimer, though a rotten playoff coach, had fierce teams in Kansas City and of course, Cowher's teams were tough as nails in Pittsburgh.
Also an interesting point by Cowher about how Arians has assistants that played in the league. America's Quarterback, Pro Bowler Jameis Winston, already noted of working with Byron Leftwich: He's been there; done that.