Meet The Indispensibles
July 25th, 2019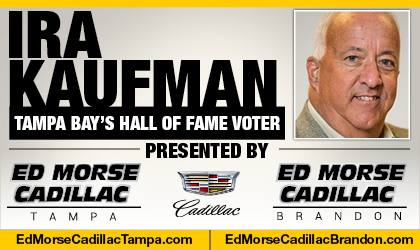 The Sage of Tampa Bay sports now enters his fourth year at JoeBucsFan.com. Where does the time go? He kicks off training camp with a look at the Bucs more important than the others. Enjoy. Ira's work is presented by Ed Morse Cadillac Tampa and Ed Morse Cadillac Brandon.
BY IRA KAUFMAN
Call them the indispensables, the players the Bucs can't afford to be without.
Every team has core guys, the ones who do the heavy lifting throughout a grueling 4-month crucible  Everyone deals with injuries in the NFL, but we're talking about INJURIES here, physical issues that force quality players to the sidelines and rearrange the depth chart.
Bruce Arians says one of the keys to success in this league is to build quality depth. You want to avoid a major drop off when someone goes down for an extended period.
That's easy to say and very difficult to accomplish in a salary-cap league. On the brink of 2019 training camp, here are the essential Bucs who need to stay on the field when the games start to count.
JAMEIS WINSTON
Tampa Bay's center of attention is the guy under center. This is a no-brainer, of course, because even the harshest of Winston skeptics have to acknowledge his importance.
The Bucs may not win more than 7 games even if Winston remains healthy, but they sure as heck won't win more than 4 without him. Ryan Fitzpatrick was a solid backup, effective in short doses, while Blaine
Gabbert is 13-35 as an NFL starter.
Keeping Winston upright in Job 1 for Arians and this new coaching staff. They know it, and so do the Glazers, who have a big decision to make about No. 3 in 2020.
MIKE EVANS
Yes, the Bucs have other solid targets for Winston in Chris Godwin, O.J. Howard and Cameron Brate, but Evans is the 6-foot-5 straw that stirs the drink.
He's Tampa Bay's best player, by a significant margin, and his presence commands special attention while unlocking a prolific passing game. Let's be honest here: the strength of this team is throwing the football and Evans is the catalyst.
If Evans is sidelined for a significant period, the impact of Adam Humphries' departure will be magnified. When Arians arrived in Arizona in 2013, he didn't have much on offense but at least he had Larry Fitzgerald. Now he has Mike Evans, who may be on that same Hall of Fame trajectory.
LAVONTE DAVID
The back part of this defense figures to be very young and very inexperienced, so David's leadership is critical. Devin White will rely on David to set his template as a role model, learning how to be a professional.
David's versatile skills make him a key chess piece for Todd Bowles to move around. He's a sound tackler, very effective in space and a proven commodity as a blitzing linebacker.
DONOVAN SMITH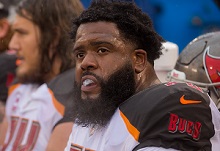 Left tackle is a difficult position to fill — and Smith has the lucrative contract extension to prove it. He's been amazingly durable as a pro and now he needs to raise his game, particularly as a run blocker.
Winston's fumbling issues are well documented and Smith must be adept at keeping blind-side rushers from executing the sack-and-strip that changes momentum and leads to jittery quarterback play.
NDAMUKONG SUH
It has been suggested more than once that Suh was rather ordinary during the regular season for the 2018 Rams before turning it up in the playoffs. That won't do in Tampa, where he replaces Gerald McCoy and needs to lead by example up front.
Suh's best years may be behind him, but he still has some juice left and he has a willing disciple in Vita Vea. If Suh can provide a physical push, he just may take Vea and Carl Nassib along with him.
PEYTON BARBER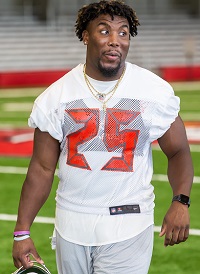 Speaking of physicality, Arians can't say enough good things about Barber's aggression as a runner who can pound away and wear down a defense.
Even if Ronald Jones takes a major step forward in Year 2, he wasn't drafted to be Tampa Bay's primary back. Barber is the hammer that Arians trusts to nail weary opponents.
DEVIN WHITE
He just signed a pro contract and now White must grow up in a hurry.
The Bucs drafted him at No. 5 because he was the highest remaining player on their board, regardless of position.
He's got the dot on his helmet and he'll be connecting the dots for Bowles as the defensive signal caller. If Tampa Bay scouts are correct in their evaluations, White will match Kwon Alexander's passion while taking better angles to the football.
Injuries will test the depth of every NFL team this season and the Bucs will be no different. If the indispensables stay healthy, this could end up being a robust franchise.