Larry Fitzgerald Talks Bruce Arians/Kliff Kingsbury Differences
July 28th, 2019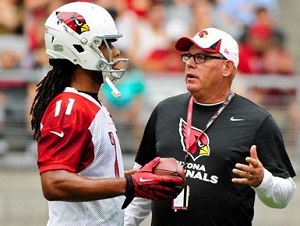 Yes, Joe will go anywhere for perspective on the Bucs. So Joe was dialed in to former Bucco Bruce Arians Cardinals receiver Larry Fitzgerald talking on SiriusXM NFL Radio yesterday.
And the future Hall of Famer delivered.
Of all the Cardinals coaches Fitzgerald has played under, he said his new regime under 39-year-old Kliff Kingsbury regime is the most analytical.
"We have a lot more emphasis on above-the-neck preparation here. We do a lot of walk-throughs, a lot of classroom study, more so than I've every done before," Fitzgerald said.
Specifically referencing Arians and other two other of his former head coaches, Fitzgerald said Kingsbury's energy is "a lot higher." He cited a college-type competitive atmosphere and he likes the openness for players.
"He's very easy to communicate and to talk to. He's approachable," Fitzgerald said. "Some of the older regime head coaches, you know, they're a little more standoffish. So I think that's been, you know, a breath of fresh air."
Joe can't say this means anything at all. But it's interesting to hear Fitzgerald's take.
Is 66-year-old Arians "standoffish" and a tough leader for a new breed of young Bucs, Generation Z players? Joe has no idea.