JPP Earns No. 65 On NFL Network Top-100
July 25th, 2019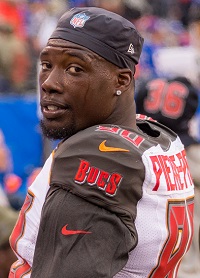 The players have spoken.
Somehow, the Bucs had the 75th- and 65th-best player in the NFL on their defensive line last year, per the player-vote-driven Top-100 Players of 2019 series on NFL Network, and they still managed to field a horrific defense.
This year's top-100 series is in full swing. Last night, Gerald McCoy, the new Panthers defensive tackle, took home the 75th ranking, and tonight it was Jason Pierre-Paul at No. 65.
Meanwhile, Carl Nassib had a solid 2018 season and Vita Vea was no slouch in the final six games.
Joe hopes Dirk Koetter was watching on TV and wondering why exactly he refused to intervene on the defensive side of the football.
Bucco Bruce Arians has his famous accountability sheets/lists that will start building tomorrow at training camp practice. Koetter, it seems, handed out don't-blame-me t-shirts.
Props to JPP, whose honor was well deserved. Hopefully, he plays football again.