Composure Versus Energy
July 3rd, 2019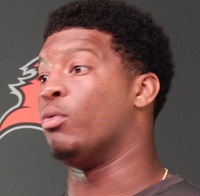 BY ZACHARY SEIFTER
JoeBucsFan.com intern
A guy who has been in NFL huddles with Marcus Mariota and Jameis Winston compared them yesterday.
They will always be linked together for the rest of their careers, maybe even the rest of their lives. Whenever quarterbacks go back-to-back as the first two picks in the draft, it's impossible to avoid the comparisons.
Just like how people compare Andrew Luck and RG3, or how people always compare how great Peyton Manning was to the enormous bust that Ryan Leaf was.
The same can be said for the first two picks of the 2015 NFL Draft. The Bucs, of course, took Jameis while Tennessee drafted Mariota.
But not many know what it's actually like to play with both of them.
One who had that rare opportunity is guard/tackle Kevin Pamphile. He blocked for young Jameis over the first three years of Winston's career before joining the Titans in the 2018 offseason.
If anyone can fairly compare the two, it's Pamphile. He has seen the styles of leadership, the styles of play and the styles of attitude each has displayed up close, and when asked how the two are different, he didn't hesitate with his answer.
"I mean, they both bring two different styles of leadership," Pamphile stated. "I mean Marcus is very composed and definitely more quiet, but he leads by example. Jameis has a compassion and energy you want in the huddle but they both have, you know, equal qualities to each other but when you're comparing both, they're both awesome players and you know, it's awesome to get to play and block for both of them."
Everyone knows their differences in terms of energy and loudness; Jameis has always been the rah-rah guy while Mariota has always preferred to remain quiet and let his play do the talking.
It's interesting to hear Pamphile say the two are similar with "equal qualities."
Another similarity: they both need to raise their games this year if they hope to score another contract at the end of it.
If not, they both could have yet another similarity: looking for a new home.