"It's Appreciated … Maybe Not At The Time He's Doing It"
July 6th, 2019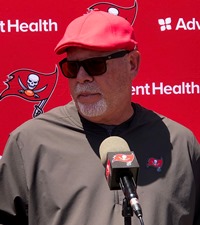 A no-surprise message about life under Bucco Bruce Arians was delivered last week by a Bucs player.
For Joe, the surprise was who said it.
During a chat with NFL Network in jolly old England, part of a league promotional tour, Cameron Brate was asked about life change under Arians.
Brate said there's been real change felt at One Buc Palace, including players getting hard truths from Arians himself.
"It's appreciated," Brate said. "Maybe not at the time he's doing it."
Yeah, yeah, Bucs fans have all heard about how Arians is known for ripping his players for their bad football and then making sure they know it's not personal later. But Brate didn't practice all spring; he's recovering from hip surgery and didn't take a snap.  Yet players hearing it from Arians is the first thing Brate talked about during the interview?
Certainly Brate himself couldn't have come under Arians' wrath.
The actual question posed to Brate was, "What are you looking forward to this season?
He talked about Arians putting his stamp on the team and rolled into the stuff about about Arians being tough on players.
That tells Joe there were real intense accountability moments delivered by the head coach this spring. Thank goodness!