First-Team Work Isn't Impressing Alex Cappa
July 28th, 2019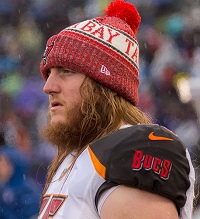 After Training Camp Day 2 at One Buc Palace yesterday, the man known as one of the meanest and nastiest players coming out of the 2018 NFL Draft seemed genuinely saddened by the fact Bruce Arians doesn't want players fighting on the practice field.
Yes, it sounds like second-year guard Alex Cappa is salivating at the chance to show what he can do in pads for the first time this year. That chance comes today for Cappa and the rest of the Bucs.
Can Cappa win the right guard starting gig? Will it be journeyman Earl Watford? Evan Smith won't go away and he's been cleared to practice and compete. And Caleb Benenoch, now working at tackle, remains on the roster, which means you just never know if a rash of guard injuries has the Bucs doing something unthinkable.
Cappa worked with the first-teamers yesterday but told WDAE radio after the session that he's not impressed by that. "No matter where you're at, you just got to compete. It's all the same. Everything can change. You just got to go out there and compete and take it one day at a time."
Wise words from young Cappa. Just keep winning every snap, fight to the death for every blade of grass.
Cappa likely will square off against a leaner and meaner looking Vita Vea and or Ndamukong Suh this evening. Joe suspects every Bucs offensive coach and front office suit will be paying very close attention.