"Explosive"
July 9th, 2019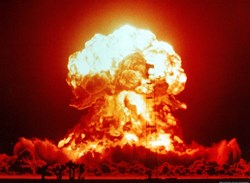 The way Joe looks at the Bucs, two outcomes could happen this season.
One is the team blows up, meaning remains the same or regresses.
The second would be the team blows up in a good way with an explosive offense.
Typing for USA Today, Michael Middlehurst-Schwartz leaned toward the latter. He listed five "explosive" teams for 2019, and included the Bucs.
As the NFL's oldest head coaching hire at 66, Bruce Arians is no doubt an outlier. That label, however, extends beyond his age, as the former Cardinals coach's downfield passing attack stands out in an era of dink-and-dunk offenses. He arrives in Tampa Bay with a fitting focal point in Jameis Winston, whose audacious approach is reflected by a league-leading average of 10.7 air yards per attempt since 2016, according to Next Gen Stats.

The Buccaneers already have proven they can generate long gains with ease, as they trailed only the Chiefs in pass plays of 20-plus yards (71) in 2018. But a league-worst 35 turnovers proved to be a significant stumbling block, as an offense that ranked third in yardage (415.5 per game) finished just 12th in scoring (24.8 points per game). Learning to be more discerning while still embracing Arians' "no risk it, no biscuit" philosophy could be the biggest challenge for Winston, whose 76 giveaways are tied for the most of any player since 2015.

Still, so long as wide receiver Chris Godwin and tight end O.J. Howard step up following the departures of DeSean Jackson and Adam Humphries, Tampa Bay could unearth the staying power that eluded it in 2018.
The only way this offense doesn't take off, in Joe's eyes, would be the rushing attack drags it down and forces the Bucs to be too one-dimensional, which is what every defensive coordinator craves.
Regular readers already know Joe has grave doubts about a running attack that was simply awful last season and the team willfully ignored any upgrade this offseason.
On the bright side, Joe believes the defense could still finish last in the NFL and still be an upgrade from the atrocity it has been the past couple of years. The Bucs defense can only improve from complete rock bottom last year.