Clyde Christensen Talks About "How Steady" Jameis Is
July 12th, 2019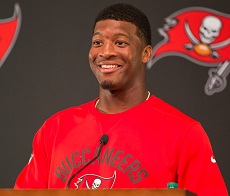 You gotta love when a veteran quarterback coach like Clyde Christensen starts quoting Ecclesiastes during an extended chat about all things Buccaneers this week with JoeBucsFan.com.
Young manbeast JoeBucsFan intern Zach Seifter was well prepared for the interview and one question asked Christensen what he saw through the spring from his new pupil, Jameis Winston.
"Just, you know, how hard he works and you know how committed he is to it, and just how steady he is," Christensen said of Jameis. "Some guys are up and down and they work hard for periods of time. But this guy really is, the job is more pulling the reins back and saying, 'Hey, let's work smarter not longer.'

"There's a great verse in Ecclesiastes I always quote that says, we're going to not swing the axe harder but we're going to sharpen the blade. So I think probably with him it's just almost reeling him in a little bit more than it is trying to get more work out of him. So, he's improved a ton. He's picked up the system pretty good. We've stressed just learning the system and fundamentals and stuff. And now we'll have to put it together and get better in all the situations and all those things, apply the fundamentals to game situations. And we introduced it all OTAs; and there were some good things, some bad things. Now it's got to be all toward winning football games."
The molding of Jameis will be very interesting to watch, especially if Christensen, offensive coordinator Byron Leftwich and Bucco Bruce Arians continue to be open about how it's progressing.
It's almost odd that Christensen is still talking about getting Jameis to be more efficient in his work — sort of going deeper versus going long. Christensen was saying the same thing more than two months ago.
Joe wonders when Bucs coaches will find Jameis' work habits to be just to their liking. Joe suspects that will come with winning — because nothing seems to matter much when the Ws are flowing.
---
Presented by Caldeco Air Conditioning & Heating, it's Bucs legend Derrick Brooks and media legend Ira Kaufman on an all-new TAMPA TWO, a production from The Identity Tampa Bay & JoeBucsFan.com.
Brooks gives great insight explaining "all you need to know as a player" and what he looks for in practice, and much more. Enjoy!