"Clean My Mind"
July 20th, 2019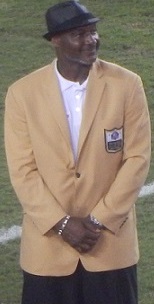 So what should Buccaneers veterans be doing right now before they report for work on Thursday?
A Tampa Bay legend shared part of his former regimen this week.

Of course, Joe's talking about iconic No. 55, Mr. Derrick Brooks, who said he unplugged in the 14 days leading up to training camp during much of his Bucs tenure.
"I did do a refresh, though, of memory. I did not watch any tape leading into training camp. The last two weeks I didn't watch," Brooks said on a new episode of TAMPA TWO produced by The Identity Tampa Bay. "Clean my mind, didn't want it anything to do with football so everything would be refreshed going in [to training camp]."
Joe is intrigued. What discipline by Brooks, who was known as one of the great film students in the NFL. It couldn't not have been easy for him to pull away.
America's Quarterback, Jameis Winston, is a guy who consistently has been counseled by Brooks. Jameis also is a guy who has been known for being unable to turn off football.
Joe's not advocating Jameis stop watching film as he is still absorbing a new offense. But that's just layman Joe. Maybe Jameis should be in full disconnect mode right now when it comes to Xs and Os. Joe plans to ask Jameis how much time he spent disconnecting from film this summer.
Brooks noted that the long vacation NFL players have now is not what he had before the labor agreement changed in 2011. So it's not a direct comparison. Still, careful attention to sharpening the mind is a good thing. That's a bit of QB Coach Clyde Christensen talked to JoeBucsFan.com about earlier this month.