"That Quote Ought To Be Taped Above Winston's Locker All Season
July 8th, 2019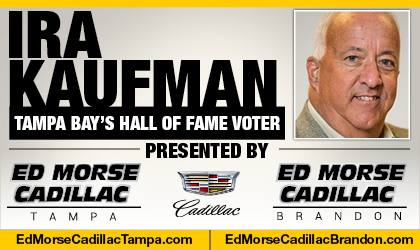 BY IRA KAUFMAN
Can Bruce Arians succeed where Dirk Koetter failed?
That's the $128 million question in Tampa as Jameis Winston approaches the crossroads of his NFL career. Why $128 million? Carson Wentz just set the young quarterback bar with a four-year contract extension in Philadelphia a month ago.
If the Bucs were convinced Winston is their guy going forward, he'd already have a lucrative long-term deal instead of playing out his fifth-year option. Now he enters his first pro season with Arians whispering in his ear hole instead of Koetter.
Winston was once the unquestioned face of this franchise, but there are wrinkles that have to be smoothed out. There are those 58 interceptions that have some Buc fans wondering whether Winston can be trusted.
"Give him a running game," says Arians. "Give him a defense and see how good he can be. I think we can limit turnovers. Never get rid of them, there's nobody that ever does it. But you can limit turnovers."
When Arians was asked whether he can live with interceptions, his response was both immediate and telling.
"Yes," he said. "One."
That quote ought to be taped above Winston's locker all season.
Processing Time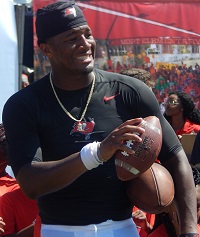 Winston gets in trouble when the Bucs get in trouble. Of his 58 picks, 39 have come when Tampa Bay needed 10 or more yards for a first down. When the Bucs have 3 yards or less to move the sticks, Winston has been intercepted only twice in four seasons.
Every coach talks about the importance of winning the turnover battle, but this franchise offers living proof. In each of the last eight seasons the Bucs sported a winning record, they boasted a positive turnover ratio.
Tampa Bay led the league with 35 giveaways (26 interceptions) last season, when the NFL's top 7 clubs in turnover differential all made the playoffs. None of the bottom 7 teams qualified for postseason play.
None.
"Our quarterback here we can win with," Arians says. "We can win the championship with. I'm extremely excited to work with him."
The key is to change Winston's mindset in those critical split-seconds when plays break down. At Florida State, Winston had the fortune to play on an elite team that owned a significant talent advantage to overcome mistakes. That won't fly in Tampa. Not with this roster. Not with this level of competition.
ESPN analyst Louis Riddick likened Winston's challenge to the task Carson Palmer faced in 2013, when he joined Arians in Arizona.
"It's a multi-layered issue," Riddick says. "There's a ton of different plays put in every week. No. 2, this is an offense really predicated on the long ball. What did Jameis struggle with … the long ball. Can you take all that volume, make good decisions, protect the football and deliver the long ball so this offense becomes explosive?"
We're about to find out.
Judgment Days
In 2013, it took Palmer awhile to process what Arians demanded under center. Palmer was picked off 13 times during Arizona's 3-4 getaway before settling down. In the next seven games, the Cardinals went 6-1 as Palmer threw 13 TD passes and only four interceptions.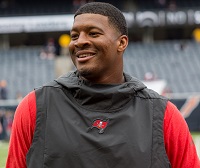 When former agent Joel Corry wrote a column for CBS Sports ranking players entering the 2019 season with something to prove, Winston topped his list.
We're only a few weeks away from the great experiment. Arians isn't the offensive coordinator or the quarterback coach. Heck, he's not even calling the plays. But make no mistake — raising Winston's game is his top priority.
The word of the day? Judgment.
"He's got great ability and a great ethic," Arians says of his passionate pupil. "When you have those two things, you should succeed. You don't have to be Superman on every throw. That comes from knowing your offense inside out. It's about knowing when to pull the trigger and when to back off, dump it to the back, give me 5 yards and let's go to the next down."
Judgment.