Jon Robinson Talks Jameis, Mariota & Humphries
July 12th, 2019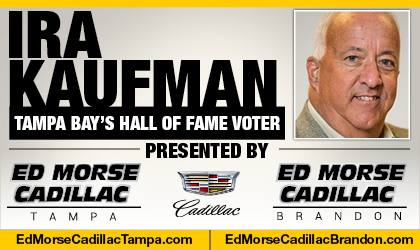 BY IRA KAUFMAN
Jon Robinson has found himself on both sides of the Jameis Winston-Marcus Mariota equation and he's still trying to add it all up.
Jason Licht's former right-hand man in Tampa has been calling the shots in Nashville as Tennessee's GM since 2016. He replaced another ex-Bucs executive, Ruston Webster, one year after Tampa Bay chose Winston over Mariota at No. 1.
"I was there in Tampa when we went through that draft," Robinson told me this week. "We liked both quarterbacks but at the end of the day in Tampa, Jameis was the pick.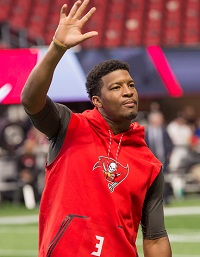 Having worked with Marcus here in Tennessee, I can see he's extremely talented. Nobody works harder than him and he's smart. Marcus and I have a great relationship and we're a better football team when he's out there … he gives us a chance to win."
Since Robinson's arrival, the Titans have reeled off three consecutive 9-7 finishes, with the 2017 club overcoming a 21-3 halftime deficit to upset Kansas City in a road playoff game.
While Mariota has been dogged by injuries, Winston has been plagued by turnovers.
"Marcus and I talked about being able to live another day," said Robinson. "He's got the mobility to get himself out of trouble, but we don't want him taking unnecessary hits. Jameis stylistically is a little different quarterback.

"He's tough like Marcus and they both want to lower their shoulders against a safety like a running back.
You can't do that when you play that position — unless it's the last play to win a Super Bowl."
Like Winston, Mariota is playing on his fifth-year option. Both are seeking to cash in on long-term contract extensions, so the 2019 season will likely decide their fate.
"Marcus is constantly trying to hone his craft — he's a workaholic," Robinson said. "All the ingredients are there to cook up a winner. He loves this city, he wants to be here and we want him here."
Robinson also knows a player when he sees one.
Hump Days
During his final season with the Bucs as director of player personnel, Robinson looked on in admiration as an undrafted wide receiver out of Clemson bucked the odds and make the 2015 roster.
Yes, that Adam Humphries.
By improving his total of receptions and receiving yards each year in Tampa, Humphries emerged as a coveted free agent in March. The Titans signed him to a 4-year, $36 million deal and Robinson sneers at any suggestion Humphries is overpaid.
"Obviously, I had a history with Adam," Robinson said. "I was on staff there in Tampa when (scout) Byron Kiefer brought his name up as a guy to bring in on a tryout basis. Adam came in and impressed everyone there in the rookie mini-camp to earn a contract. I remember mentioning him several times in discussions with Lovie Smith about his ability to get open. He was a tireless worker. Every day he'd be out there trying to improve his craft.

"I've watched his career and he's a reliable target. He's tough and he doesn't mind doing the dirty work when he knows there may be a safety hanging ready to clean his clock."
The Bucs will feature a new slot receiver this fall. It could be Chris Godwin or it might be a glue guy like Humphries, a relentless worker who won't be denied.
"For that slot position, you have to be a very smart player," Robinson said. "You have to be savvy in reading coverages on the fly. Coordinators in this league do a great job trying to disguise coverage and for that position in particular, your route can change based on a couple of different looks you're getting.

"You have to be able to run full speed while deciphering the coverage and adjusting your route to give the quarterback a window to throw the ball. It's hard for a quarterback if the receiver isn't in the right position. Adam takes great notes and he's a good sounding board for our younger players. In other words, the guy's a real pro."
Don't Buc fans know it, too.
He's been gone more than three years, but Robinson still keeps an eye out for developments at One Buc Place. Licht remains a close friend, dating back to their days together in New England's scouting
department.
"I still root for the Bucs," he says, "anytime they're not rolling into Nissan Stadium."