Deeper Training
July 9th, 2019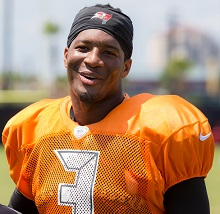 Imagine how much Jameis Winston, America's Quarterback, was challenged the last two seasons facing the Mike Smith defense in practices through the spring, summer and fall.
Of course, Joe is being sarcastic. That cottony-soft defense was dysfunctional and weak, and Dirk Koetter sanctioned it.
The point today is the defense was hardly preparing the Bucs offense well for what it would see in real games — against real defenses.
Joe brings this up because it's an often overlooked element of the 2019 Bucs. Jameis is getting all kinds of different looks in practice — and hopefully he will grow from those experiences throughout training camp.
Ironically, the New York Jets' offensive coordinator has been talking to his team website, via ProFootballTalk.com, about how much Jets QB Sam Darnold is benefiting from all the fresh looks from new defensive coordinator Gregg Williams. As a rookie last year, Darnold's head coach was new Bucs defensive genius/coordinator Todd Bowles.
The consistent buzz out of New York is that while Bowles' defense was aggressive there, it doesn't compare to what Williams is bringing to the table now.
Regardless, Bowles' Tampa Bay unit will bring all kinds of welcome stimulation, learning and challenge to Jameis following the incompetence of 2018 and 2019, which is just one more reason why Jameis should be able to take a big step forward this season.