"And The Touches They're Going To Give Him"
July 9th, 2019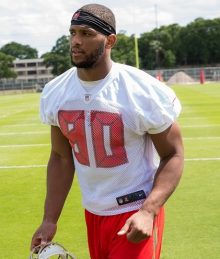 Many Bucs fans may be glad former rock star general manager Mark Dominik is long gone from One Buc Palace, but that doesn't mean Dominik abandoned his strong connections inside the walls of that building.
So it is with that in mind that Joe is highly intrigued by Dominik's recent chatter with a video show called The Territory.
Dominik, also a frequent co-host on SiriusXM NFL Radio, was talking NFC South and the tight end position. He was emphatic that he envisions a true monster season coming from O.J. Howard.
But what really grabbed Joe is Dominik referencing chatter on how much Howard will be used.
"I think everything is pointed for O.J. Howard in this offense to be able to have a tremendous year, like 70, 80 catches and double-digit touchdowns," Dominik said. "I think O.J. Howard is just primed and ready to go. Everything I've heard coming out of Tampa Bay in terms of his training, in terms of understanding the system and the touches they're going to give him make me very confident. This is going to be a tremendous breakout year."
Very, very interesting stuff. Howard should be making Bruce Arians drool, and that seems to be happening.