"You Do Now"
June 16th, 2019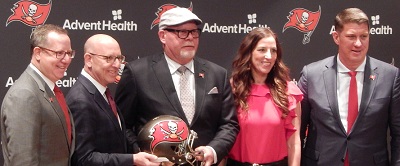 It's Father's Day and the Bucs sort of have a new daddy in Bucco Bruce Arians. He's older than every former Tampa Bay head coach since Sam Wyche.
But the true father figure for the Buccaneers remains the quiet, generous spirit of Malcolm Glazer. It hasn't been lost on the current edition of Team Glazer.
Back in March, Arians hosted his annual massive golf tournament and pre-event concert benefiting his foundation that has long been devoted to helping children stuck in the legal/foster system in Arizona, and the volunteer advocates that represent them.
At the time, Arians shared a story about Team Glazer that didn't make headlines.
Arians said Team Glazer asked him if he had a lead sponsor for the event. No, replied Arians. "You do now," was the response from Team Glazer, per Arians.
The price tag on the presenting sponsorship was $75,000.
Joe thinks that's pretty cool. Sure, Team Glazer spending 75 grand is about the equivalent of Joe spending $40 on a sushi feast, but it's still an impressive move right after ownership agreed to hire what might be the most expensive coaching staff in the NFL.