"Not Waiting Til It Happens"
June 16th, 2019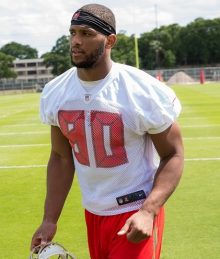 O.J. Howard seemed to punishing himself back in May during an exclusive chat with JoeBucsFan.com, almost blaming the injuries he's suffered the past two seasons on himself. It felt awfully harsh.
Before June minicamp ended, Howard elaborated.
Manbeast JoeBucsFan.com Zachary Seifter asked Howard what he's doing this offseason that's "specifically different" to his approach in order to stay healthy.
"Yeah, mostly, I just started prehab. You know, I'm doing it before it happens, keeping my ankles and everything in great condition," Howard said. "I'm staying after practice right now late just to keep my body up to the top notch it can be to be healthy for 16 games. So that's just something I'm doing different and not waiting til it happens."
Joe previously has shared the photo of Howard's season-ending ankle injury on the Meadowlands turf in November. Take a look. Is that his fault? Could preventative strength work on Howard's ankles helped a faster recovery? Maybe.
Regardless, Howard's attitude is exemplary, just what a team should expect from a 24-year-old, first-round pick entering his prime years. Howard looked very strong and healthy during spring practices.
Joe asked Howard if he felt faster — since he looked a little faster. Howard smiled and said he wouldn't mind running a couple of 40-yard dashes to find out.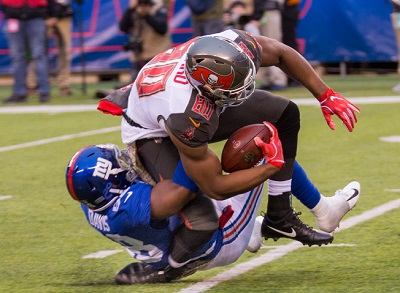 ---
MEET IRA KAUFMAN & FEAST ON FREE FOOD
Thursday, June 20, at Ed Morse Cadillac Brandon, 5 p.m. to 7 p.m.
Friday, June 21, at Ed Morse Cadillac Tampa, 5 p.m. to 7 p.m.
Come celebrate the rollout of the all-new Cadillac XT6!
RSVP by clicking a logo below. Casual fun with Ira at beautiful Ed Morse Cadillac showrooms.
---