"Within A Week He's Running The Defense"
June 3rd, 2019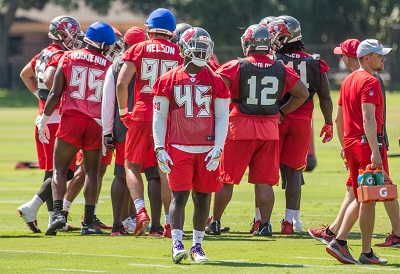 Bucco Bruce Arians was smooth in front of the national television cameras Friday.
Hopefully, he'll be sought for more interviews like that one. They will come if the Bucs win freakin' games for a change.
If not, well, Arians will be ignored and viewed like most big-name free agents who come to Tampa.
During this spot on ESPN, Arians was fearless in his praise of rookie linebacker Devin White, the No. 5 overall pick. Joe says "fearless" because Arians won't hesitate to call White the face of the defense and a guy he expects to kick ass.
"Within a week he's running the defense, guys are following him," Arians told the national TV audience. "He's just a natural because first of all he's a very smart young man. He came in, grasped the defense, can call it in the huddle, makes the checks and proved to them that he can handle that job."
White has so, so much on his shoulders. It's almost like he's a No. 1 overall pick quarterback landing on a terrible team that was just quarterbacked by Josh McCown. There is that much pressure on White to deliver from Day 1.
Joe's expectations aren't has high. If White can hit a groove by November and look like a consistent, potential Pro Bowler through the second-half of the season, Joe will be ecstatic.