Happy New Team Day For Gerald McCoy
June 3rd, 2019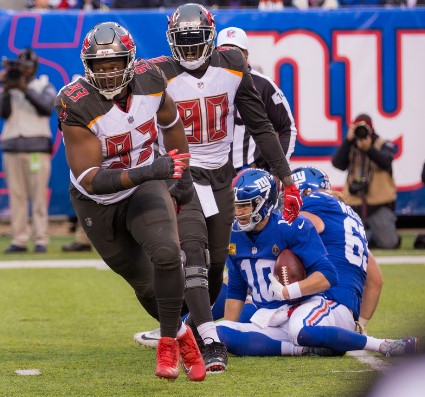 Won't be long now.
After longer-than-typical free agent visits to the Browns and Ravens, and a reported trip to the Carolina Panthers, ex-Bucs defensive tackle Gerald McCoy is expected to choose his next team today.
One thing certain is Bucs fans will be paying attention.
Joe's hoping McCoy goes to the Panthers and Ali Marpet, Ryan Jensen and friends team up to get the best of him there. That's Joe's storybook finish; McCoy picks Carolina and the Bucs drill the Stinkin' Panthers and McCoy is left to wonder why the Bucs are great without him and he picked a loser.
However, as Bucs fans know too well, happy football endings are rare in Tampa.
Bucs-fan odds lean in favor of McCoy making the playoffs next season with one of these teams, and having a big game in January. Or maybe McCoy lands in Cleveland and sacks Jameis Winston, America's Quarterback, in the Bucs-Browns preseason game and leaves Jameis wounded.
Those scenarios are more befitting of The Bucs Life we live.
Regardless, Joe wishes McCoy well.
Love him or hate him, McCoy gave his best and was a good player. Forget where he was drafted or the $100 million+ he earned, the Bucs just haven't had enough players like McCoy.