"We're Going To Feed Off That"
June 23rd, 2019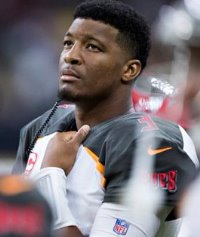 "No expectations, just actions," trumpeted America's Quarterback, Jameis Winston, to an Alabama television station on Friday.
No, Jameis is not going to be pinned down when it comes to putting a tangible goal on his Buccaneers. Jameis is finished with any of that kind of talk. He's all about action now.
Jameis spent nearly all of last week giving back to various communities in Alabama with a focus on kids. At one of his football camps, Jameis chatted with the local CBS-TV affiliate, which compiled the video below.
Jameis remarked multiple times about the energy head coach Bucco Bruce Arians is bringing to the Bucs and "we're going to feed off that."
Joe loves having a team feeding off its coach's energy, but that can be a slippery slope. As Arians tells his players, it's their team, not his. And they need to feed off each other and deeply support each other.
It's just June semantics, but Arians really is about developing core players to lead and drive the energy, rather than him being the alpha dog of the roster.