Bruce Arians Reveals Buccaneers' 2019 Draft Strategy
June 22nd, 2019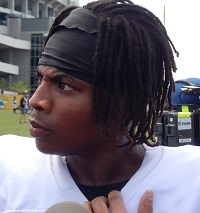 For months and months, fans of all NFL teams try to figure out what their team's draft strategy will be.
Sometimes, those same fans keep trying to figure it out even after the actual draft.
The Bucs had a draft like that in 2019. Nobody predicted the team selecting three defensive backs in Rounds 2 and Rounds 3.
Head coach Bucco Bruce Arians himself pulled back the draft war room curtain a bit recently on the Ira Kaufman Podcast. Joe asked Arians to explain how involved he was with scouting cornerbacks.
The coach explained it was a targeted strategy all along.
"I knew we wanted to get into that [cornerbacks] market," Arians explained. "So I got heavily involved as far as looking at corners. I don't usually look at a lot of corners. But I knew that this was something, the first pick [of Round 1] was going to be one of two people. And then it's going to be corners. So Sean [Murphy-Bunting], I fell in love with Sean right away. He had the length, the speed, and then when I met him, how smart he was, how mature of a guy he is. And also played nickel, so his position flexibility playing man-to-man with his length was off the charts right off the bat.

"Jamel, you know, he played the whole year with a broken hand and a big cast on his hand and he's playing bump and run, so I know he's got heart, you know." Arians said. "And whether or not he could catch I didn't know until we got that cast off. But two guys that we said their length was unbelievable.

"You know, when I think of corners, it's not always speed. Because of the toughest guys, and we'll see him in the first game, is Richard Sherman. Richard is very smart but he has lengths. You gotta throw the ball perfect to get it over their arms when you're throwing fades or back shoulders. It's different when you got a 5-10 corner and you can pick on him a little bit. But those tall long guys are tough to pick on."
Very telling take there. And who was the other guy not named Devin White under consideration at No. 5 overall. Quinnen Williams? Kyler Murray?
For those wondering, Vernon Hargreaves measured 5-10 at the 2016 NFL Scouting Combine. Joe wonders whether Arians wonders why Jason Licht drafted Hargreaves at No. 11 overall.