The Jameis Division Of Labor
June 20th, 2019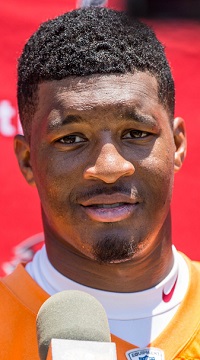 All those big voices in Jameis Winston's ear, it's almost unprecedented.
The man has four coaches and now we have another peek at how roles are divided.
Some of this isn't new, but a chunk appeared fresh and certainly caught Joe's attention.
Bucs beat writer Jenna Laine typed up a look at offensive coordinator Byron Leftwich for ESPN.com and noted how Bruce Arians' quarterback foursome handled America's Quarterback during the spring.
"I think you have to be connected at the hip," said Leftwich, who is responsible for the mental part of the game while Christensen focuses on mechanics. It's those two in the quarterback meeting rooms, along with longtime NFL assistant Tom Moore, who observes and relays everything to Arians, who purposely stays out to avoid Winston "hearing too many voices."
So Lefwich works on Jameis' mind. Christensen handles the body and the feet work, and Tom Moore studies the teaching and relays it to the Quarterback Whisperer who doesn't want to talk too much.
Got it.
As Sage JoeBucsFan.com Ira Kaufman has said many times. "If I paid for Bruce Arians, I want Bruce Arians."
Yes, Arians is in charge, but the Bucs aren't getting Arians the playcaller, or Arians the micromanaging offensive guru as their quarterback learns a new system and tries to raise his game to an acceptable consistency.
Joe has a ton of faith in Arians, but Joe is awfully leery of the inevitable four-faucet messaging flowing through Jameis' head amidst all the pressure he's under in a contract year.