"That's Their Problem; That's Not Mine"
June 4th, 2019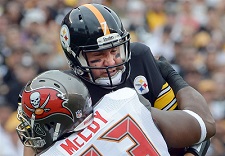 Gerald McCoy had plenty to say during his first news conference as Carolina Panthers defensive tackle/end.
Of course, Joe was listening.
Interestingly, McCoy explained that a big reason he went vegan right after last season was "my joints were starting to hurt and stuff."
Hmm, 31-year-old defensive tackle with sore joints. That might not be a guy worth $13 million.
McCoy also talked about how great it was to be wanted by Panthers teammates, who he said were pushing management to sign him. He also said he appreciated that his breakfast with Panthers head coach Ron Rivera was not some kind of sales job.
He said leaving the Bucs was all business, but it seemed like it might be a little personal after this exchange.
Reporter: Was there a little salt in the wound experienced when you saw that [Ndamukong] Suh got No. 93?
Gerald McCoy: Nah, that's their problem, that's not mine. I'm a Panther. Let them deal with that.
Keep in mind Suh was very complimentary of McCoy when asked about him in Tampa last week.
Put it on the calendar: Bucs-Panthers, Thursday Night Football, September 12th in Charlotte.