Pulling Licht Off The Ropes
June 14th, 2019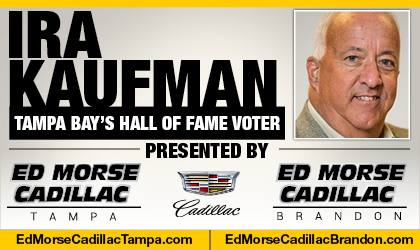 BY IRA KAUFMAN
There's so much on his plate, so much riding on his agenda.
Bruce Arians has a lot of mouths to feed this fall, starting with a starving fan base desperate for winning football. Buc Nation is hungry for a savior to rise from these sweaty streets and make this franchise relevant in the national conversation.
There's also the matter of a legacy to maintain.
Arians is a two-time Coach of the Year who has already proven he can turn around a chaotic organization. He doesn't want anyone thinking his success in Arizona was a mere desert mirage.
There's also the matter of raising the profile of assistants like Byron Leftwich and Harold Goodwin. Arians would love to see some members of his staff generate interest as head coaches, but that won't happen if the Bucs go 5-11 for a third consecutive season.
Yes, the Bucs are on a four-coach losing streak since the dismissal of Jon Gruden in 2009. Arians can end that trend and show that the Glazers learned from their mistakes.
But there's one more interested party who isn't getting enough attention at One Buc Place. The upcoming season will be a referendum on coaching, with Jason Licht's future hanging in the balance.
Licht has watched with hands folded as premium draft picks like Jameis Winston, Vernon Hargreaves, Noah Spence and Justin Evans failed to develop into stars.
Even last year's first-round choice, Vita Vea, has much to prove as an impact player. Perhaps Alex Cappa can win a starting job in 2019.
Lovie Smith and Dirk Koetter are history and Licht played a pivotal role in goading Arians out of retirement.
Once Licht acquired the talent, he didn't have much of a say in how those players would be utilized. In that respect, Tampa Bay's failures could be blamed on poor coaching.
With a new staff, assembled by a head coach that Licht pined for, those excuses are gone.
Battling Off The Ropes
What we hear constantly about Arians and Todd Bowles is their willingness to shape the game plan around the talent – putting players in the best position to succeed. So if Hargreaves struggles as a press corner or Spence receives scant playing time as an edge rusher, that's on them. That's on Licht.
If the quarterback whisperer can't improve Winston's penchant for giveaways, that's on No. 3. That's on Licht.
Let's look at the bright side.
If these young players become key contributors on a winning team, Licht's reputation as a sharp GM would soar. It was the coaching that held these guys back, his supporters could say — with some justification.
At the moment, Licht is getting ravaged when national pundits rank the NFL's top executives. Fair enough, because a 27-53 record is a brutal bottom line in a bottom-line business.
Licht's a punching bag, but Arians can help his buddy off the ropes in a big way this fall. He and his staff can develop the talent Licht brought in through the draft, Arians can bring out the best in Carlton Davis and maximize the skills of Devin White.
Winston is the key, of course, by virtue of his position. He's got several voices in his head, but Arians represents the loudest voice. This will be Winston's first pro season without Koetter, whose relationship with his starting quarterback was surely strained in 2018, if not before.
Everyone at One Buc Place has skin in this game, especially Jason Licht. There were times during his five-year tenure when Licht undoubtedly chafed about how Tampa Bay's coaching staff utilized the available talent. Well, there's a new sheriff in town and Arians is laying down the law.
Commandment 1: Honor thy father, thy mother and thy draft choices.
---
MEET IRA KAUFMAN & FEAST ON FREE FOOD
Thursday, June 20, at Ed Morse Cadillac Brandon, 5 p.m. to 7 p.m.
Friday, June 21, at Ed Morse Cadillac Tampa, 5 p.m. to 7 p.m.
Come celebrate the rollout of the all-new Cadillac XT6!
RSVP by clicking a logo below. Casual fun with Ira at beautiful Ed Morse Cadillac showrooms.
---