Mike Evans Explains His Hamstring Is "100 Percent"
June 14th, 2019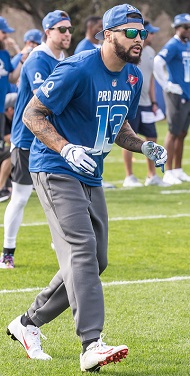 Kudos to stud Bucs receiver Mike Evans for giving JoeBucsFan.com an exclusive interview today at his charity foundation golf event in Valrico.
Manbeast JoeBucsFan intern Zach Seifter got the call for the time with Evans and pulled a few goodies from the best receiver in Tampa Bay history.
First nugget up will be about what's most important, Evans' health.
Intern Zach: A lot of fans are wondering, you missed practices, how's the hamstring? Are you going to be good to go for [training] camp?
Mike Evans: Of course. I was good to go. I just had to sit out for precautionary reasons. You know, I understand that. No need to push my body to the limit and negate my training while I'm getting ready for training camp. I feel good now, back to 100 percent. Ready to go for training camp.
Great, great news.
Previously it was unclear where Evans was in his recovery, but that's one stress that Bucs fans can bury. Evans told Zach that he plans to heading to Canada later this summer with his wife to look into a business venture she's considering and to visit Canadian Football League practices where his buddy Derel Walker is an All-Star receiver for the Toronto Argonauts.
That doesn't sound like a guy concerned about rehabbing a hamstring.
Joe will have more from Evans in the coming days.