Bruce Arians Talks "PFOTXL" & Mutual Respect
June 23rd, 2019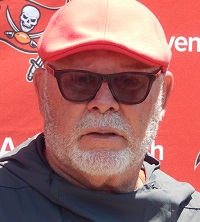 Bruce Arians entered the NFL 30 years ago as an assistant coach following 14 seasons coaching in the college ranks.
He's heard and seen a thing or two.
Last year, Arians spent his first season outside the coaching ranks since before the Buccaneers ever played a snap. He called games for CBS but wasn't very good, though he improved through the season like most first-year analysts do.
During a recent Ira Kaufman Podcast (are you subscribing for your free alert?), Joe pleaded with Arians to help Joe and the rest of the NFL media understand where they can most improve.
Arians didn't waste much time landing on the often faceless and baseless data peddlers.
JoeBucsFan.com: Coach, you spent a year in the media and obviously you've been around the media for years. Where do we all get it wrong? I mean, give us some education here. Where does the media get it wrong in the NFL? Where is it sort of off track where you think it could get a little better?

Bruce Arians: Well, the competition's gotten so crazy. You know, 10 years ago there might be one person on radio. Now there's a hundred. Now we've got eight different organizations that grade our film and tell us how good our players are. And guys jump on it and say,' Hey, PFOTXL said this guy stinks.' I think he's pretty good. I don't know who's grading that film. But all that stuff, I get a kick out of some of that stuff now. But I think the media's great. I mean, having been a part of it. I've always had a respect for the jobs that they do because I think they respect the job we do. And as long as that stays that way, it's always great.
Of course, some major networks love to tout the often mysterious player grades. Hopefully, more coaches will push back and the NFL will realize there's better use of valuable TV time than insulting fans with subjective and borderline fraudulent numbers.
Eventually, Joe suspects the NFL will wise up — and see dollar signs — and replace that with the reams of NextGen data they provide teams, the stuff generated by the league from high-tech tracking of uniforms and footballs. Right now, fans only get a handful of those crumbs at NFL.com.
As for media respecting the job coaches do, Joe not sure that broad of a brush can be applied.