Jameis Winston: "This Game, It's 99.9 Percent Mental""
June 23rd, 2019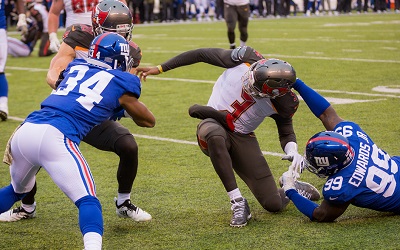 America's Quarterback, Jameis Winston, has been a bit of a mental failure during his NFL career.
And based on new words from Jameis himself, he'd say the exact same thing.
Bucs fans don't need the background. Jameis has been a wildly inconsistent quarterback, highs and lows. Throw in getting the NFL's version of a sex offender slapped on him, and it's easy to say Jameis can't get a good grade when it comes to mentality in the world of franchise quarterbacks.
Jameis gave a week of his time to his hometown Alabama communities last week with a heavy focus on helping kids.
He also gave an interview to the good folks at The Birmingham News. Jameis told them one thing he taught at a high school football camp led by him and his foundation on Thursday.
"We also had a mental performance coach (speak). This game, it's 99.9 percent mental, so we had a guy come in and teach them breathing exercises, to teach them the 'next-play mentality,' because a lot of us get in trouble, I've gotten in trouble that way. Something bad may happen, and I harp on that play too long instead of moving on to the next play.

"So those were the most important parts of that session. We started off with doing things the right way, life skills and mental performance. Now football, that comes easy. We were blessed to play that game. We were privileged to play that game.

"And the main message I had for them was not to cheat yourself. You only have one life. I don't want you to cheat yourself. If you cheat yourself, who else is going to be there for you?"
Powerful stuff from Jameis, and it fascinates Joe to hear Jameis call football 99.9 percent mental and talk about his shortcomings.
Yes, it's the mental side that has made Jameis an average NFL starter after four seasons. If he's still average six months from now, Team Glazer and friends will have a big decision to make on a guy with a very big body of work.