Jameis Preaches God & School To Kids
June 20th, 2019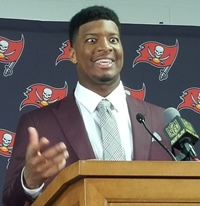 It might only be a matter of time before the Tampa Bay Times blasts Jameis Winston for talking about faith in a public library.
If you're not catching Joe's line of thinking, you can refresh your memory here of when Jameis was torched locally — and later nationally — for a poor word choice during a 40-something minute inspirational chat with kids at a St. Pete school in 2017. Man, it was such a bad word choice yet not one of the accomplished educators, parents or anyone affiliated with the Bucs got Jameis' attention, pulled him aside and asked him to clarify or correct his remark.
Anyway, Jameis was back at it again yesterday, addressing kids at the Bessemer Public Library, all part of his Drew Forever Week community project in Alabama. His efforts move to the football field today in the form of a youth camp, and there's another one tomorrow.
The video below is of Jameis talking to kids and parents yesterday. He's lecturing on how God is No. 1, Education is No. 2, and No. 3 is an unknown because the video cuts off after 9 minutes.