"He'll Coach Me Pretty Hard, Which I Need"
June 28th, 2019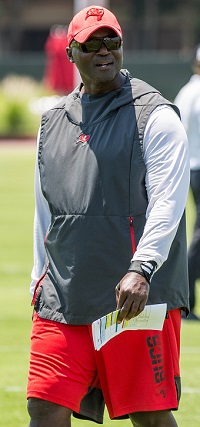 Jets fans know one of the few successes during the Todd Bowles era in New York was the emergence of Jamal Adams as a do-it-all superstar safety.
Yes, Joe is keenly aware that Adams was the No. 6 overall pick in 2017; that kind of talent should be a stud. But Adams was known to be extremely tight with Bowles and gave him a lot of credit for his success. Joe talked to Adams about that at the Pro Bowl in Orlando this year.
Bowles, the Bucs' new defensive coordinator, was a safety for the Redskins and 49ers through an eight-year playing career.
Tampa Bay drafted a safety late in Round 3 this year, Mike Edwards out of Kentucky. And all signs since then lead Joe to believe Edwards was a handpicked Bowles man — as in he's not here without Bowles' complete approval.
In the new Buccaneers.com video below. Edwards talks about how Bowles is a "safety guy" and is hands-on with him. "He'll coach me pretty hard, which I need," Edwards said.
Joe was very pleased to hear Bowles is on Edwards and seems personally engaged in his development. Over the last two years, Joe can't recall any player saying Mike Smith coached him hard.
With Justin Evans' mysterious heel injury and little experience overall at safety, the Bucs need Edwards to be yet another rookie who can contribute this season.
Enjoy the new Edwards video below: