Change In Jameis Winston's "Study Habits & Questions"
June 28th, 2019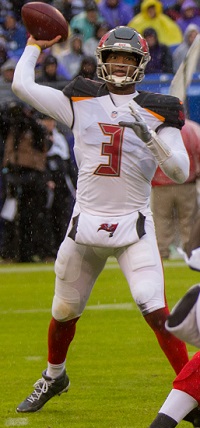 Same old Jameis Winston in 2019?
Nope.
One of the astute football minds of past 25 years and a true legend of the game is a friend and mentor of America's Quarterback, and he sees a new man.
Bucs icon Derrick Brooks told JoeBucsFan.com that Jameis becoming a father and getting engaged has changed and matured him, but Brooks also sees an early difference on the football side of the franchise QB.
"His approach to football is different now because he's being coached differently," Brooks said. "Now he's taking to the ways of the coaching that he's receiving; I notice that in terms of study habits and questions. But overall, as long as he continues to grow on and off the field and then a football player, I think Jameis will be fine."
Joe was fascinated to hear Brooks say Jameis is asking different questions and displaying changed study habits. They're in touch regularly and Brooks would know. That's very encouraging.
(Note to Jameis haters: a change in study habits doesn't mean Jameis wasn't working hard enough or trying previously.)
Joe expects a different Jameis under head coach Bucco Bruce Arians, but Joe has no clue what that will look like. Hopefully, it will involve a consistency typical of top-tier quarterbacks.
---
More TAMPA TWO with Tampa Bay legend Derrick Brooks and The Sage, JoeBucsFan.com columnist Ira Kaufman!
Together they dive into new defensive coordinator Todd Bowles. It's all presented by Caldeco Air Conditioning & Heating. And the great folks at The Identity Tampa Bay and Joe put it all together. Enjoy!