Can Bowles Get The Bucs Out Of Buccaneer Cove?
June 4th, 2019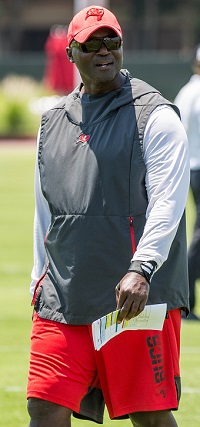 BY ZACHARY SEIFTER
JoeBucsFan.com intern
There's a very good reason why the Bucs have finished in last place in the NFC South 6 of the last 7 seasons.
They can't beat their division opponents.
Tampa Bay has managed a winning record against its NFC South opponents just once since Gruden was fired following the 2008 season. Their 2016 season featuring a glorious five-game run was that one occasion, with the team going 4-2 in NFC South play.
That has to change.
The main source of that change must come from the defense. The "defense" the Bucs threw on the field the last two years was downright abysmal. Lawn chairs probably would've been nearly as effective.
In comes Todd Bowles, the savior of the defense.
He's going to have his hands full against the quarterbacks in this division: a surefire hall-of-famer in Drew Brees, plus former MVP's in Cam Newton and Matt Ryan.
Bowles' overall track record against these quarterbacks isn't good, though Cam Newton struggled mightily in one game and Matt Ryan had one of the two four-interception games of his career.
As defensive coordinator for the Cardinals in 2013 and 2014, Bowles' defenses managed just a 2-3 record against these three teams. As a head coach for the Jets, he was 0-3.
Not exactly strong numbers.
He better figure out a way to slow down these offenses. It's either that or another year in "Buccaneer Cove," aka last place in the NFC South.
Let's hope he learned a thing or two from past experiences:
Here's a look at Bowles' previous games against the Saints, Panthers and Falcons as a defensive coordinator and head coach:
2013
Week 3- New Orleans: Loss 31-7
Leading passer: Drew Brees: 29-46 for 342 yards, 3 TD's and 1 INT
Leading rusher: Khiry Robinson: 4 rushes for 38 yards
Leading receiver: Jimmy Graham: 9 receptions for 134 yards, 2 TD's
Week 5- Carolina: Win 22-6
Leading passer: Cam Newton: 21-39 for 308 yards and 3 INT's
Leading rusher: DeAngelo Williams: 12 rushes for 39 yards
Leading receiver: Greg Olsen: 5 receptions for 79 yards
Week 8- Atlanta: Win 27-13
Leading passer: Matt Ryan: 34-61 for 301 yards, 1 TD, and 4 INT's
Leading rusher: Matt Ryan: 1 rush for 13 yards/Falcons held to 27 yards rushing total
Leading receiver: Harry Douglas: 12 receptions for 121 yards
2014
Week 13- Atlanta: Loss 29-18
Leading passer: Matt Ryan: 30-41 for 361 yards, 2 TD's, and 1 INT
Leading rusher: Steven Jackson: 18 rushes for 101 yards
Leading receiver: Julio Jones: 10 catches for 189 yards 1 TD
Two 100-yard receivers for Atlanta that day.
Harry Douglas: 9 catches for 116 yards
Wild Card Round- Carolina: Loss 27-16
Leading passer: Cam Newton: 18-32 for 198 yards, 2 TD's, 1 INT
Leading rusher: Jonathon Stewart: 24 rushes for 123 yards 1 TD
Leading receiver: Fozzy Whitaker: 1 reception for 39 yards 1 TD
2017
Week 8- Atlanta: Loss 25-20
Leading passer: Matt Ryan: 18-29 for 254 yards, 2 TD's, 0 INT's, 3 fumbles, 2 lost
Leading rusher: Tevin Coleman: 14 rushes for 82 yards
Leading receiver: Mohamed Sanu: 6 receptions for 74 yards 1 TD
Week 12- Carolina: Loss 35-27
Leading passer: Cam Newton: 11-28 for 168 yards, 0 TD's, 0 INT's
Leading rusher: Christian McCaffrey: 7 rushes for 62 yards
Leading receiver: Devin Funchess: 7 receptions for 108 yards
Week 15- New Orleans: Loss 31-19
Leading passer: Drew Brees: 26-36 for 281 yards, 2 TD's, 1 INT
Leading rusher: Mark Ingram: 12 rushes for 74 yards, 2 TD's
Leading receiver: Michael Thomas: 9 receptions for 93 yards, 1 TD