"No Matter What He Said To Get The Job, He Ain't Locked In To Anybody"
June 26th, 2019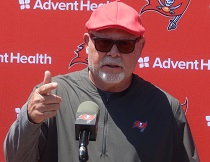 One great mystery in the world of the Buccaneers is how new head coach Bucco Bruce Arians answered a simple question from Team Glazer during the interview process.
"What's your plan for 2020 if you think Jameis Winston doesn't have what it takes?"
Of course, Joe wasn't in the room for the answer — or the question. And neither was any other media.
At this point, Arians' answer is almost irrelevant. He got the job and things change in a hurry, as does the balance of power in an NFL organization.
This was a subject on SiriusXM NFL Radio yesterday morning with Bob Papa and iconic retired NFL offensive guru Charlie Weis.
During a lengthy discussion about the Bucs, Weis said he completely agreed with the statement "no matter what [Arians] said to get the job, he ain't locked in to anybody," referring to the quarterback position.
Weis said America's Quarterback, Jameis Winston, has all the tools to succeed and a tremendous coaching staff to help him, but Weis countered that Jameis also had strong coaching during the Dirk Koetter regime.
The Bucs must draft a quarterback next season if Jameis doesn't take a step forward in his game, Weis said, and Jameis being just ok after five seasons shouldn't stop the Bucs from selecting his potential replacement in 2020.
So is Jameis the biggest key to the Bucs' 2019 season? Weis doesn't think so.
He's all about fixing what he called an "awful" Bucs defense that just lost it's only "legitimate" pass rusher in Jason Pierre-Paul.
Weis really liked the Devin White pick at No. 5 overall but is not hopeful for a Todd Bowles turnaround that's significant. "All I can say is good luck," Weis added.
As for Jameis, Joe completely agrees that Arians would have no problem getting divorced from Jameis after this season, if he thinks he can find better immediately.
Could that be a trade for Derek Carr, if Chucky sours on him? Carr would have three more years on his contract at just under $20 million per season (2020-2022).
Hopefully, Jameis just plays consistent football and stays healthy so there is zero quarterback drama. That would be so refreshing.