"I'd Say It's More Than Fair"
June 18th, 2019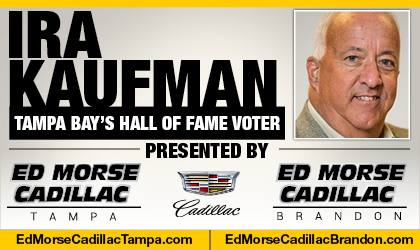 BY IRA KAUFMAN
Sometimes, you just can't shake a guy.
Ask Gerald McCoy, who has been compared to Ndamukong Suh since they were collapsing pockets and raising their profile in college.
They were chosen one pick apart in the 2010 draft and now the cycle is complete — with Suh replacing McCoy on the Bucs.
So it is with Jameis Winston and Marcus Mariota, who went 1-2 atop the 2015 draft. They were both labeled franchise quarterbacks, but here we are four years later and neither is considered among the best at his position.
The Titans have had more success than the Bucs since 2015 and enter a new season coming off three consecutive 9-7 finishes. Mariota is 27-28 as a pro compared to Winston's 21-33 record, but the only Pro Bowl berth belongs to Winston.
"I'm going to have to go with Jameis Winston because I've seen bigger and more consistent stretches in the passing game," says former 11-year NFL receiver Nate Burleson.
But Burleson's "Good Morning Football" colleague, Kyle Brandt, offers a different take.
"This is really simple for me," Brandt says. "It's so difficult to be a quarterback on the field. I need to be 100 percent sure that I can count on you off the field and I don't have that right now with Jameis Winston. Until I do, it's Marcus Mariota … and it's easy."
But there's nothing easy about the decision both franchises have to make next offseason.
Mariota and Winston are each making $21 million in 2019 on their fifth-year options. Both likely want long-term extensions in the $25-30 million per year range. That's a serious commitment with dramatic salary-cap ramifications.
"I'm going to say Mariota does not get a long-term deal," says former Bucs quarterback Chris Simms, now a regular commentator on Pro Football Talk. "I think he's an athlete who plays quarterback instead of a quarterback who's a good athlete."
Simms seems to favor Winston in this matchup, but not by much.
"Winston is an interesting one," he says. "I do think he's set up for success with the talent he has around him, but I've got to see it to believe it. I'd say neither of them gets a long-term deal."
There's always the option of a franchise tag, but that's a Band-Aid.
Draw The Line
How many years should it take to make a firm decision?
He's either the guy, or he's not.
Mariota has had a better ground attack and a better defense around him, but he has missed eight games due to injury and his passing skills don't keep defensive coordinators up at night.
To be fair, the Titans have struck out with wide receivers in the draft, so they threw a lot of money at free agent Adam Humphries. Arthur Smith will be Tennessee's fourth offensive coordinator since drafting Mariota and head coach Mike Vrabel hopes Smith can provide stability.
"I pull for quarterbacks, so I hope Marcus stays healthy and I think having Mike there will establish some consistency and continuity. That's what quarterbacks look for – continuity," Peyton Manning told the Titans' official website.
If Mariota falters, the Titans have a decent backup in Ryan Tannehill, who won 42 of 88 starts in Miami. The Bucs are stacking all their 2019 chips on Winston, with Blaine Gabbert, Ryan Griffin and Nick Fitzgerald filling out the depth chart.
Is it fair to judge a quarterback by his team's record? After five years, I'd say it's more than fair.
No team wants to move on under center and admit a massive misfire at the top of the draft board, but Winston and Mariota simply haven't inspired confidence to date.
They have to stay healthy. They have to improve. They have to stay focused.
Most of all, they have to win.
---
MEET IRA KAUFMAN & FEAST ON FREE FOOD
Thursday, June 20, at Ed Morse Cadillac Brandon, 5 p.m. to 7 p.m.
Friday, June 21, at Ed Morse Cadillac Tampa, 5 p.m. to 7 p.m.
Come celebrate the rollout of the all-new Cadillac XT6!
RSVP by clicking a logo below. Casual fun with Ira at beautiful Ed Morse Cadillac showrooms.
---