Wanna Bet?
June 25th, 2019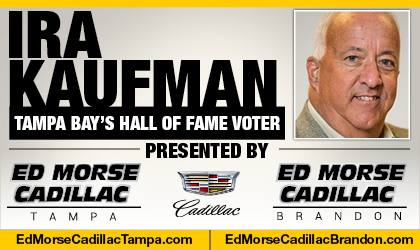 BY IRA KAUFMAN
Jay Kornegay has carved out a heck of a living by being right most of the time.
The VP of the Westgate Las Vegas Hotel and Casino SuperBook presides over the gold standard for sports wagering in America. He's betting that what happens in Vegas stays in Vegas — especially the loads of cash wagered every day at his posh parlor.
He does it his way. Mistakes, he's made a few, but then again, too few to mention.
On the brink of training camp, I asked Kornegay what he expects out of the 2019 Buccaneers.
For each of the past 11 years, frustrated Tampa Bay fans have seen a succession of NFL clubs leap from last to first in their division. Buc supporters have swallowed hard as four or five new teams make the playoffs every season.
The question is an obvious one: why not us?
Although Kornegay isn't going all in, he senses there is an opportunity for the Bucs to make a splash in the deep end this fall.
"The Bucs were always viewed as a team that had talent but underperformed," Kornegay told me. "We expect Bruce Arians and Todd Bowles to change that immediately."
For Buc fans, change is good. For Buc fans, change is spectacular.
But wait … it's complicated.
"The downside is the Bucs play in a tough division — and that's not changing this year," Kornegay said. "Arians has a knack of lifting play for quarterbacks, but Jameis Winston will be a bigger challenge. For success, Winston will need to cut down his picks."
Do tell, sir.
Long Odds
Kornegay wanted to make sure I knew what the SuperBook tote boards were saying about the Bucs: in terms of winning the NFC South, the Saints are 1-2 favorites, followed by Atlanta at 13/4, Carolina at 6/1 and Tampa Bay at 12/1.
The Bucs are a 50-1 longshot to represent the NFC in the Super Bowl and you can get 100-1 odds on the chances of the Bucs hoisting the Vince Lombardi Trophy in a parade down Dale Mabry Highway.
Now the good news.
Every year, and I mean every year without exception, a handful of NFL teams rise from obscurity. These Vegas odds are not an exact science … that's why you have to play the games.
Two years ago, the over-under win total for the Bills was listed as 6.5. Buffalo ended up winning 9 games, ending a playoff drought that stretched back to 1999.
The Vegas board had the 2017 Rams for 6 wins, but Los Angeles rolled to an 11-5 mark under rookie head coach Sean McVay.
By the way, the Bucs are currently pegged at 6.5 wins.
A year ago, Vegas had the Bears at that same 6.5 mark. Chicago went on to win 12 games under first-year coach Matt Nagy.
The Colts were also listed at 6.5 before a dynamic draft and the return of Andrew Luck forged a 10-win season.
It works the other way, too.
Remember how the 49ers finished the 2017 season with a flourish, winning their final five games after a 1-10 start?  Projected to be a 9-win team last year, the 49ers plunged to 4-12 as Jimmy Garoppolo missed the final 13 games with a torn ACL.
The bottom line is the Vegas odds aren't infallible. Kornegay and his group don't always get things right.
Take 2013, for example.
With Arizona coming off a 5-11 season, the over-under win total for the Cardinals was listed at 5.5. A feisty coach named Bruce Arians answered the skeptics with a 10-6 finish, narrowly missing the playoffs.
Can Arians do it again? The odds say he's got a shot.