The Bowles Comeback
June 10th, 2019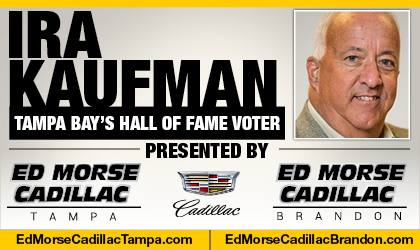 BY IRA KAUFMAN
In Todd we trust.
That's the mantra for Buc fans in 2019 as Todd Bowles seeks to recapture his stature as one of the NFL's premier defensive minds. That reputation took quite a hit in New York, particularly in his final three years as head coach.
The Jets went 14-34 in that span, ranking 29th, 22nd and 28th in points allowed.
What went wrong?
Any NFL head coach has an array of responsibilities that don't weigh down an assistant. The Bucs are hoping Bowles can return to his role as an effective hand's-on teacher focused on one side of the football.
Bowles became an attractive candidate for the Jets job after two impressive years leading Arizona's defense for Bruce Arians. In 2014, Bowles was named the league's Assistant Coach of the Year after the Cardinals held seven opponents to 14 points or less.
Now he's back working for Arians, who calls Bowles "the brightest football player and probably the brightest coach I've ever been around."
The old desert gang is back together, with Bowles once again working with Mike Caldwell, Nick Rapone and Kevin Ross. Together, they helped Arians turn around a moribund franchise in Arizona.
How did they do it?
They looked at the roster and built a plan. That sounds simple enough, but at times during an 11-year playoff drought, the Bucs seemed to go about things in reverse order.
"I've coached half of my career in a 4-3, the other half in a 3-4," says Bowles. "I think you coach according to what kind of players you have and what kind of guys you can put where."
Unpredictable
Gone are the days of the eight-yard cushion for Buc cornerbacks.
Gone are the days for schemes so predictable that Tampa Bay fans could call out alignments and assignments well before the snap. With a Bowles defense, the element of surprise is fundamental.
"We blitzed quite a bit at that time," Bowles says of the 2013-14 Cardinals. "Most of it was the illusions of pressure, as opposed to pressure itself. A lot of guys came free. We had some good athletes on that team and they made me look good."
Expect elaborate blitz packages, particularly up the middle. Lavonte David has been an effective pass rusher when given the opportunity and rookie Devin White will surely get his chances to shoot the "A" gap and make a killing.
Bowles points out that blitzes can serve a variety of purposes.
"Sometimes, it's to take away the run," he said. "Sometimes, it's to stop the quarterback from stepping up. Sometimes, it's to keep a good running back in who's a good pass receiver."
Read that explanation slowly and you can't help thinking about Sean Payton's group along the bayou. Drew Brees loves to step up in the pocket and Alvin Kamara is the kind of back Bowles would love to keep chained in the backfield as a blitz protector.
Defensive lineman Frostee Rucker, who played for the Raiders last season, was coached by Arians for five years in Arizona, when he talked about Bowles' success.
"He plays to a guy's strengths," Rucker says. "He doesn't just say, 'Well, 'F' it, this is my defense. This is the way we run things.'

"That's how a lot of people get lost in their careers. They get drafted into a situation where they don't draft you for what you're good at. And you're considered a bust sometimes when it's really, 'No, I'm just not good at what you're asking me to do.'"
That's the reason players like Noah Spence, Vernon Hargreaves and Carlton Davis are excited headed into training camp next month. They sense a fresh start under Bowles, whose quiet demeanor belies an aggressive approach.
The Bucs haven't featured a three-man front since 1990, when Ray Perkins was fired by Hugh Culverhouse with three games remaining in a dismal season.
Expect the unexpected from this defense because Bowles intends to speak softly and carry a big playbook.