Arians Says Gerald McCoy "Just Didn't Fit"; Explains Upgrade To Ndamukong Suh
June 2nd, 2019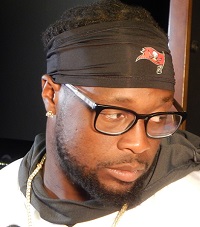 Gerald McCoy was cut and Bucco Bruce Arians told local reporters to move on with their questioning. Arians only wanted to talk about Buccaneers.
The head coach changed his tune a bit Friday.
During a visit on ESPN, Arians was advised McCoy is "clearly in demand" on the free agent market and then was asked why McCoy couldn't keep playing in Tampa.
"It just wasn't a fit," Arians said. "Whether it was financial, whatever, on the field, you know, it just didn't fit. I've been through this a number of times with guys and great players and it just comes a time when they have to separate the organization. You go back to Franco Harris not being a Steeler; this has happened for a long, long time."
So in what ways do you see Ndamukong Suh as an upgrade? Coach was asked.
"Consistency," Arians said of Suh. "He never misses a game, very seldom ever misses a practice. Plays extremely hard the way I like to play. He fits our three-man scheme a lot better in terms of his versatility up and down the front."
Well, there you have it. Arians sees Suh as more versatile, consistent and tougher. In some circles, that's called a significant upgrade.