Will Teams Ever Tell A Starting QB To Test The Market?
May 12th, 2019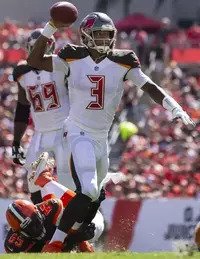 As salaries for franchise quarterbacks and decent starting QBs continue to explode, eventually teams will have to explore more seriously whether it's worth it.
America's Quarterback, Jameis Winston, is in the final year of his contract and you haven't heard a peep or a hint from the Bucs that they have begun talking with Jameis' team about a new contract.
Former Bucs QB Chris Simms, now an analyst for NBC Sports, agrees with his co-host, Mike Florio of ProFootballTalk.com, that teams my start drawing a line in the sand as salaries soar past $30 million per season.
Simms has one big criteria to define a quality QB.
"What I always look at for a franchise quarterback is not always, hey, of course the intangibles are important, but the ability to carry the football team when the team not playing up to its capabilities or you have injuries," said Simms, using Dak Prescott as a positive example for his play in the second half of last season.
As for Marcus Mariota, Simms said he doesn't see much more than an athlete who also is a QB and he doubts Mariota will earn a long term deal. Jameis? Well, Simms says the table is set beautifully for Jameis with Bucco Bruce Arians and a host of weapons around him.
"But gosh, I got to see it to believe it, on and off the field and everything that goes with it," Simms said.
Florio adds that Jameis has a "defect" that drives him attempt things on the field that he just can't do.
"I don't think Bruce Arians coaches that out of him," Florio said.
Big decision ahead for Team Glazer. Even if they choose to slap the franchise tag on Jameis next year, which could amount to a $9 million raise and a $30 million salary, that would have serious roster ramifications for 2020 and beyond.
You can hear Simms and Florio dive into the subject below: