"Wanted In Cleveland"
May 21st, 2019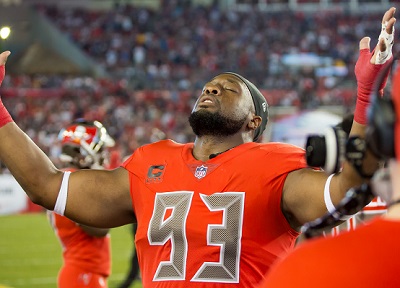 That didn't take long.
Longtime Browns beat writer Mary Kay Cabot, along with BSPN Insider Adam Schefter, are Tweeting and reporting that former Bucs Pro Bowl defensive tackle Gerald McCoy is "wanted in Cleveland."
Cabot wrote "When he was still under contract at $13 million a year for 2019, the Browns weren't interested in trading for him, a league source told cleveland.com. But now that they can negotiate the terms of the deal, the Browns are at least exploring the possibility."
Noted in her piece was that Odell Beckham Jr. gave a social media thumbs up to a McCoy acquisition.
Joe suspects Browns offensive coordinator Todd Monken, who held that job in Tampa the past few seasons, would give McCoy an endorsement, too.
Joe hopes McCoy lands in Cleveland. First, the Browns come to Tampa for the "dress rehearsal" game of the preseason, August 23rd at The Den of Depression. How fun would that be? Second, the Browns will be all over national TV this season. What a chance that would be for McCoy to perform and launch his name into future Hall of Fame conversations — or be invisible and be referred to as a free agent bust.
It's going to be an interesting season.