Bruce Arians: Ronald Jones Shining Through 4 Practices
May 21st, 2019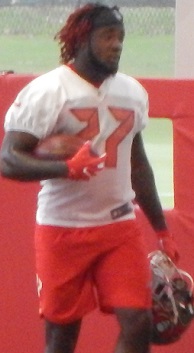 RoJo! RoJo! RoJo!
RoJo!
There's a lot of love at One Buc Palace for the Bucs' 21-year-old running back.
The great draft bust of 2018 is thriving in May, after a good April, per various Buccaneers employees.
Ronald Jones looks good in practice and was a standout last week, Bucco Bruce Arians said after practice today. Joe asked the head coach who was shining following his review of three days worth of practice film last week.
Arians went right to Jones.
"Some really young players really stepped up, especially Ronald Jones," Arians said. "He had a really good day today. I really enjoy watching him where he's at right now."
Joe followed up to ask what he can assess from Jones and running backs without pads, and Arians said Jones is showcasing excellent vision.
Arians noted that while there were just nine running plays during today's session, Jones' strong cutbacks were special.