Report: Browns Offer To McCoy "Likely Under $10 Million"
May 25th, 2019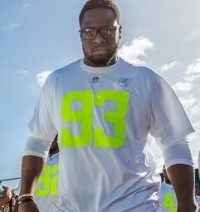 The Browns tried to get Gerald McCoy to sign a contract before he left their headquarters yesterday.
That's the word from longtime beat writer Mary Cay Cabot of Cleveland.com. Late yesterday, she served up an update on the courting of the ex-Bucs Pro Bowl defensive tackle.
Joe has a visual of general manager John Dorsey pulling McCoy's arm in a pleading fashion while Bucco Bruce Arians disciple head coach Freddie Kitchens tells McCoy how great he looks on film and how they'll help him make Tampa pay. Fun thoughts on scorching Saturday afternoon.
Joe found the money angle Cabot referenced interesting, as well as McCoy's shot to be part of an historic defensive line.
Among other things, he loves the idea of playing with fellow Pro Bowlers Myles Garrett, Oliver Vernon and Sheldon Richardson on the defensive line, and has never been surrounded with that caliber of talent.

McCoy might sign a one-year "prove-it" deal with the hopes of catching on long term. At least one team has offered him $11 million, but it's not a winning team, and making the playoffs is a priority.

McCoy's deal here will likely come in under $10 million, but he's willing to play for a little less for a chance to make the playoffs for the first time in 10 years. The addition of McCoy would make the Browns the fifth franchise since 1970 to enter a season with four Pro Bowl starters on the defensive line, according to NFL Network.
Cabot added that McCoy will head next to a visit with the Ravens on Tuesday.