NFL Network: No Surgery For JPP; Neck Re-check In September
May 10th, 2019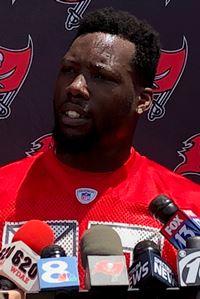 It might be time to pull the plug on the Bucs career of Jason Pierre-Paul.
Yeah, NFL Network says JPP won't have surgery on his broken neck. Apparently, he found a few doctors who said he could heal without it. Joe can't blame the guy; surgery is dangerous stuff.
But the problem here for the Buccaneers is Tom Pelissero's report says JPP will require a re-evaluation of his neck in early September. And if all goes well, JPP could be chasing quarterbacks again in October.
Frankly, what good is that for this season from the Bucs' $14.9 million investment at defensive end? And that's a best case scenario for JPP. What kind of football shape would he be in? He's a freakish athlete, but there are limits — and he's 30.
Joe wouldn't blame the Bucs for moving on and maybe using some of the JPP savings to pick up veteran DE Allen Bailey off the street (six sacks last year), or to pay Gerald McCoy, or just banking the cap money and rolling it over to next year.
Joe likes JPP but is just trying to keep it real. The odds don't appear to be in the Bucs' favor. Then again, John Lynch's bad neck in Tampa became four consecutive Pro Bowl seasons in Denver.
With surgery off the table, the plan is to recheck #Bucs DE Jason Pierre-Paul's fractured vertebra at the 4-month mark, source said. The good news: Three independent doctors concurred it'll heal on its own. Expected timeline is 5-6 months, if not sooner.

— Tom Pelissero (@TomPelissero) May 10, 2019