NFL Network: More Details On The Fuzzy Details Surrounding JPP's Injury, Recovery
May 7th, 2019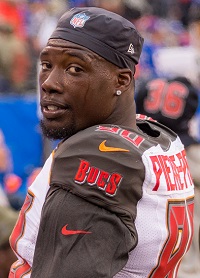 Reporter Tom Pelissero was enlightening Buccaneers fans tonight on NFL Network.
That one-car accident Jason Pierre-Paul had in South Florida that caused his serious neck injury? Pelissero says it was the result of hydroplaning. So hopefully that quashes the conspiracy theorists who think JPP was doing something wrong and/or wanted out of Bucco Bruce Arians' 3-4 defense.
JPP was not given a citation by police. He went to the hospital and went home.
The Bucs aren't talking about the injury, Pelissero said, but JPP is seeking lots of second opinions by sending scans of his neck around to specialists. It's unclear, per Pelissero, whether JPP will need surgery that could sideline him for six months, or if he can recover without it and be ready by opening day.
Speculating here, Joe is guessing JPP wants to find doctors who will tell him he doesn't need surgery. If he's on that opening day roster, he'll bag all of his fat salary, whereas if the Bucs launch him before that because of a non-football injury, then he'll only get about half.
The latest on Jason Pierre-Paul from @NFLTotalAccess: Several doctors will review his scans in the coming days. Concern is it's a fractured vertebrae in his neck. If surgery is required, he'd face a 5-6 month recovery. But no decisions yet on how to proceed. @nflnetwork pic.twitter.com/76QjsG8qnu

— Tom Pelissero (@TomPelissero) May 7, 2019