Check The Record
May 31st, 2019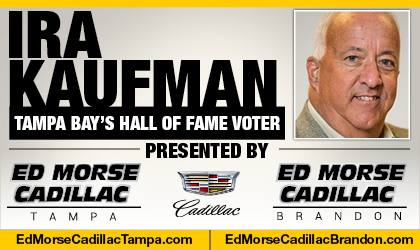 BY IRA KAUFMAN
He won't give an inch or a yard, even from the podium.
Reminded of his national reputation as a dirty player, Ndamukong Suh dusted himself off Friday and refused to take a step back.
"I think my record speaks for itself," he said.
Whether it's on the field or in front of a microphone, Suh isn't inclined to retreat. In his view, he is getting paid handsomely to change the line of scrimmage and the culture — not win an award as The NFL's Mr. Congeniality.
As far as Bruce Arians is concerned, there's no need for Suh to apologize for his belligerent approach. He's on the Glazer payroll for his style of play as much as his production.
"Suh's a great player," says Buc center Ryan Jensen. "That's why he has stuck around the league and made a lot of money. He's a hard guy to play against."
That's sweet music to the ears of Arians and Todd Bowles, who was cited by Suh as a major reason he decided to serve with Tampa Bay before departing the French Open.
Like Dirk Koetter, Arians wants a badass football team. Unlike Koetter, Arians now has a 305-pound slab of nasty for others to emulate.
You can't talk to Suh about football for more than 11 seconds without hearing three omnipresent words: attack, aggressive, intense. His No. 1 priority is "moving that line of scrimmage back into the offense's lap."
Suh certainly knows what it's like to have fines deducted from his paycheck. But if you think all those subtractions will add up to a new playing style, you don't know A Man Named Suh.
"He brings that juice," Jensen says, "and he's a very strong dude. It's hard to move him."
On a Thursday night in 2017, Jensen and the Ravens humiliated Suh and the Dolphins 40-0. Before you rip Miami's defense, understand that Baltimore returned two interceptions for scores and added another touchdown with a fumble recovery in the end zone.
It was a giddy evening for Jensen, but he's glad Suh is now on his side.
"He plays the game very aggressively and when an interior lineman can disrupt the game by pushing the pocket, that's quite a challenge for any offense," says Jensen.
Power And Fury
Suh and Gerald McCoy have been linked since their college days and now the waltz is complete. They were drafted within one pick of each other in 2010 and when Hall of Fame voters are asked to select four defensive tackles for the next All-Decade team, McCoy and Suh both deserve strong consideration.
Although they're listed at the same position, Suh and McCoy bring different traits. McCoy is recognized for being ultra-quick off the ball while Suh embodies a more physical presence.
Ultimately, Suh's power and fury had more appeal for Bowles and Arians.
They are seeking a new identity for a group that has been battered for a decade.
That's a travesty in a region that grew accustomed to stifling defense.
"I've been through the gamut," Suh said Friday as he joined his fourth pro franchise. He helped the Rams to the Super Bowl last season, playing alongside Aaron Donald, the league's premier defensive tackle.
Around these parts, we don't shoot that high. A playoff berth would do Buc supporters just fine, no matter what McCoy does elsewhere.
Judging by his opening snap at One Buc Place, Suh is proud of his legacy forged during a 9-year career.
No retreat, no surrender, no apologies.
Like Ryan Jensen stated so eloquently, the man brings the juice.