Ndamukong Suh Arrives At One Buc
May 31st, 2019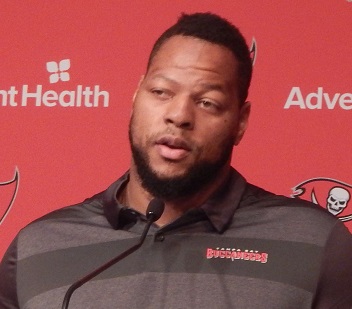 The Bucs' new manbeast defensive tackle, Ndamukong Suh, finished his medical examination by Bucs doctors and took to the One Buc Palace podium late this morning.
Among the highlights of the news conference with local media:
Biggest appeal in Tampa was defensive coordinator Todd Bowles, Suh said. He said it was very much about coming to an "attack-style defense" and he got to know Bowles years ago and there were subsequent discussions as he considered playing for Bowles with the Jets last season.
Suh said he loves to move the line of scrimmage, a concept he learned from head coach Bo Pelini at Nebraska, and to be a part of a defense that does that.
Blips of me "in a negative light" is how Suh characterized himself appearing on dirtiest player lists and things that paint him as a bad guy.
Answering Joe's question about what he learned about game preparation in extreme heat from his three seasons with the Dolphins (2015-2017) , Suh, without any sarcasm in his voice, said he loves, loves, loves the Florida heat and said he believes it's an advantage. He used to train in Mississippi and he truly believes it prepares players to play in any conditions. Suh did not miss a game during his Dolphins career.
Gerald McCoy is a friend, Suh said. They spent time at the Super Bowl but didn't talk before his Tampa arrival.
Joe asked about Suh's memories of watching Buccaneers offensive linemen on film and playing against them, and the only guy Suh mentioned was retired Carl Nicks.
Overall, Suh was his usual polished, off-the-field self. Asked about his play a few different ways, Suh used the "proof is in the pudding" line multiple times.