Make The Call, Jason!
May 15th, 2019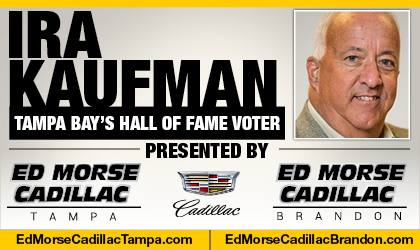 BY IRA KAUFMAN
Give him a call.
Jason Licht needs to remember that scene in "The Godfather." When Michael Corleone arrives in Las Vegas, trying to set up a meeting with casino owner Moe Greene.
First, Michael clears the room of the waiters and the dancers. "Give him a call," Michael then says to Fredo, who knows Al Pacino is in Sin City strictly on business.
Well, this is business, too. The business of winning.
There may be a rare opportunity to acquire a cornerback who has earned eight Pro Bowl berths in an 8-year career, a 3-time All-Pro who has never missed a game and has a long and distinguished history with Bruce Arians.
If Patrick Peterson is indeed available, the Bucs need to be interested. At the very least, this potential opportunity merits a phone call from Licht to one of his best friends in the business, Arizona GM Steve Keim.
Peterson is not a happy camper in the desert. He's bent out of shape and nobody in Arizona seems to know why.
I don't care why.
"Find A Way"
He wants out — and Tampa Bay needs to show him the money and directions to One Buc Place.
With a new head coach, the Cardinals don't want to part company with their best defensive player. That's understood, so Licht needs to make Keim an offer he can't refuse.
Peterson turns 29 in July and he's slated to make a combined $23 million in the next two seasons. For each of the past four years, he has cracked the Top 20 in voting for the NFL's Top 100 players.
Do you see anyone on the current Buc roster worthy of that kind of recognition?
Antonio Brown, arguably the best receiver in the league, just got dispatched to Oakland for picks in the third and fifth rounds. I'm offering at least a 2 and a 4 for perhaps the premier corner in the NFL.
This is not Darrelle Revis coming off knee surgery. This is a future Hall of Famer, healthy and in his prime.
What about Peterson's salary? Find a way.
Peterson entered the league in 2011, two years before Arians put his stamp on the Cardinals. He saw the quarterback whisperer breathe new life into a dead franchise.
"You saw what he did in Arizona," says Peterson. "He turned around things very quickly and only in five years was the winningest coach in franchise history. We should've went to the playoffs three of his five seasons. We won 10 games that first year (2013) and still didn't get in. Coach knows how to win games, Coach knows how to put players in the best position possible to be successful."
You'd have to think Peterson is playing mind games with Todd Bowles on a daily basis. Bowles is looking for someone to anchor a young secondary and unlike Brent Grimes, Peterson enjoys the challenge of shutting down elite receivers — no matter where Julio Jones or Michael Thomas might line up.
"My biggest strength is being able to play well with my back to the quarterback," says Peterson. "I love to play up at the line of scrimmage, right in the wide receiver's grill. To do that, I need to play really well with my back facing the quarterback. I need to be able to read the receiver's body language and eyes to tell me what's going on in the backfield — if the ball is coming, if the QB is scrambling, if he checks down to a back."
A proven lock-down corner would give Bowles a lot of flexibility and confidence to install an aggressive scheme. And while there would be other potential suitors for Peterson's services, the Bucs need to give this their best shot.
"When it comes to football," Peterson says, "in my mind, Coach Arians is a genius."
Make the call, Jason.
Ira Kaufman began covering the NFL as a New York Giants beat writer in 1979. He arrived on the Buccaneers beat in 1985, and the corporate leash finally was removed from his neck when he joined JoeBucsFan.com in July 2016. The award-winning Ira Kaufman Podcast fires twice per week, and Ira's columns appear thrice weekly, except when Ira is on special assignment. Tampa Bay's only Hall of Fame voter also is a popular guest on various national radio and on local TV. Don't miss him weekly on TAMPA TWO with Derrick Brooks, a production of The Identity Tampa Bay and JoeBucsFan.