Key Numbers, Respect For Ndamukong Suh
May 23rd, 2019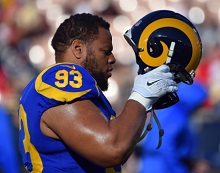 What do these numbers — 51, 38, 40, 40, 24, 40 and 55 — have in common when it comes to manbeast defensive tackle Ndamukong Suh and his expected arrival to the Buccaneers for the 2019 season?
Think for a second …
Ok, Joe's got the answer. In the NFL Network Top-100 Players ranking presentation every summer, those numbers represent where Suh's peers across the NFL ranked him from the 2011 season through the 2017 campaign. His latest ranking will come out this summer during the annual feature.
Impressive stuff.
Gerald McCoy got shut out in the voting for the 2017 season. One could say it's all rigged toward good teams, but Suh's 6-10 Dolphins, with Jay Cutler and a subpar defense, blow up that theory. And, frankly, many other players do, too.
By most accounts, Suh was better in 2018 than he was in 2017, so Joe is eager to see where Suh ranks this season.
You can watch Suh's 2018 feature here.