Data & More On Suh Versus McCoy
May 23rd, 2019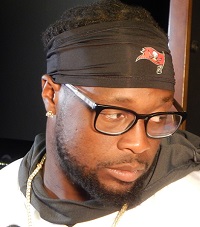 BY ZACHARY SEIFTER
JoeBucsFan.com intern
In nine Buccaneers seasons, Gerald McCoy was a part of a team that finished in the bottom 10 in total defense six times.
Total defense is measured by yards per game, per NFL stats, but if you want to look at it in terms of points allowed, McCoy's defenses still finished in the bottom 10 during five of his nine seasons with Tampa Bay.
Is that really all McCoy's fault?
When you consider the Bucs defensive players released or traded, and who replaced them, it's easy to say McCoy wasn't the culprit of this team's defensive failures.
Mike Jenkins, Michael Johnson and Chris Baker among others brought in to replace Aqib Talib, Darrelle Revis and Michael Bennett.
If anything, McCoy was the one constant for this defense outside of Lavonte David, and McCoy is on a streak of six or more sacks — for six straight seasons.
But what good is it to be a constant on a consistently awful defense?
Which brings us to McCoy's replacement, Ndamukong Suh. He is the one with a reputation for being dirty, while McCoy was considered a man of great character and despised by many Bucs fans for always being eager to help an opponent off the turf.
Suh was taken just one pick ahead of McCoy in the 2010 draft. He has lived up to that pick by being considered one of the premiere defensive tackles in the league, along with McCoy.
But what kind of player are the Bucs getting now, at age 32?
Suh has been a part of a dominant defense (2014 Lions), and he's shown up in the Super Bowl and playoffs spotlight. But they're also getting a player who doesn't consistently show up year-in year-out.
Yes, Suh has posted great numbers in nine years. His career stats nearly match McCoy's, many being slightly better.
But Suh has seen those numbers decline a bit. He hasn't recorded more than five sacks since 2015. And Suh hasn't had the same excuse McCoy has had; Suh did have great talents on his defensive lines. He played next to Cameron Wake in Miami, and he played next to the Defensive Player of the Year in Aaron Donald last season, along with a young Ziggy Ansah in Detroit.
When Suh has shown up and been a dominant force on the defensive line, his team wins.
In his dominant 2014 season, Suh recorded his second-best season in terms of sacks with 8.5, and he also added 54 combined tackles, more than McCoy has ever recorded in a single season in his career. Those Lions were 11-5 and ranked second on defense (total yardage) and third in points allowed.
Fast forward two years to Suh's second year in Miami. He recorded a career-high 72 tackles and added five sacks for a Dolphins team that rallied from a 1-4 start to finish 10-6 and make the playoffs.
Then last season, while it wasn't Suh's best statistical season, he was part of a team that went 13-3 and made the Super Bowl. Suh was as dominant as he's ever been in the playoffs, recording 1.5 sacks, 10 tackles and five QB hits.
The Bucs are getting a player that can take over a game and lead a defense when motivated. If the Bucs get the Suh from last year's playoffs, or the player from the 2016 Dolphins or the 2014 Lions, nobody will complain about him coming aboard.
But they better get that version of Suh. If they get the Suh that takes plays off, and only goes to the beat of his own drum, this defense is in trouble.
Ndamukong Suh/Team Rankings/Personal Stats
2010 – Lions
Points allowed ranking: 19th
Yards allowed ranking: 21st
Rushing defense: 24th
Passing defense: 16th
Suh's sacks: 10.0
Combined tackles: 65
2011 – Lions
Points allowed ranking: 23rd
Yards allowed ranking: 23rd
Rushing defense: 23rd
Passing defense: 22nd
Suh's sacks: 4.0
Combined tackles: 39
2012 – Lions
Points allowed ranking: 27th
Yards allowed ranking: 13th
Rushing defense: 16th
Passing defense: 14th
Suh's sacks: 8.0
Combined tackles: 35
2013 – Lions
Points allowed ranking: 15th
Yards allowed ranking: 16th
Rushing defense: 6th
Passing defense: 23rd
Suh's sacks: 5.5
Combined tackles: 48
2014 – Lions
Points allowed ranking: 3rd
Yards allowed ranking: 2nd
Rushing defense: 1st
Passing defense: 13th
Suh's sacks: 8.5
Combined tackles: 54
2015 – Dolphins
Points allowed ranking: 19th
Yards allowed ranking: 25th
Rushing defense: 28th
Passing defense: 21st
Suh's sacks: 6.0
Combined tackles: 61
2016 – Dolphins
Points allowed ranking: 18th
Yards allowed ranking: 29th
Rushing defense: 30th
Passing defense: 15th
Suh's sacks: 5.0
Combined tackles: 72
2017 – Dolphins
Points allowed ranking: 29th
Yards allowed ranking: 16th
Rushing defense: 14th
Passing defense: 16th
Suh's sacks: 4.5
Combined tackles: 48
2018 – Rams
Points allowed ranking: 20th
Yards allowed ranking: 19th
Rushing defense: 23rd
Passing defense: 14th
Suh's sacks: 4.5
Combined tackles: 59
Gerald McCoy – Team Rankings/Personal Stats
2010
Points allowed ranking: 9th
Yards allowed ranking: 17th
Rushing defense: 28th
Passing defense: 7th
McCoy's sacks: 3.0
Combined tackles: 27
2011
Points allowed ranking: 32nd
Yards allowed ranking: 30th
Rushing defense: 32nd
Passing defense: 21st
McCoy's sacks: 1.0
Combined tackles: 11
2012
Points allowed ranking: 23rd
Yards allowed ranking: 29th
Rushing defense: 1st
Passing defense: 32nd
McCoy's sacks: 5.0
Combined tackles: 30
2013
Points allowed ranking: 21st
Yards allowed ranking: 17th
Rushing defense: 15th
Passing defense: 17th
McCoy's sacks: 9.5
Combined tackles: 50
2014
Points allowed ranking: 25th
Yards allowed ranking: 25th
Rushing defense: 19th
Passing defense: 28th
McCoy's sacks: 8.5
Combined tackles: 35
2015
Points allowed ranking: 26th
Yards allowed ranking: 10th
Run defense: 11th
Pass defense: 16th
McCoy's sacks: 8.5
Combined tackles: 34
2016
Points allowed ranking: 15th
Yards allowed ranking: 23rd
Rushing defense: 22nd
Passing defense: 22nd
McCoy's sacks: 7.0
Combined tackles: 34
2017
Points allowed ranking: T-22nd with the Jets and Broncos
Yards allowed ranking: 32nd
Rushing defense: 23rd
Passing defense: 32nd
McCoy's sacks: 6.0
Combined tackles: 47
2018
Points allowed ranking: 31st
Yards allowed ranking: 27th
Run defense: 24th
Pass defense: 26th
McCoy's sacks: 6.0
Combined tackles: 28