Just About Everything Jameis Winston Did At Practice Yesterday
May 22nd, 2019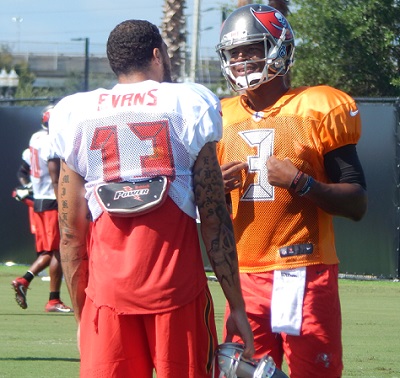 In the spirit of Kramerica Industries, JoeBucsFan.com has a college intern for a few months. It's a true rarity. In addition to soaking up wisdom from The Sage of Tampa Bay sports, Zachary Seifter has a pile of Bucs knowledge himself and you'll see some of his work here occasionally. Yesterday, Seifter followed every move of America's Quarterback, Jameis Winston.
BY ZACHARY SEIFTER
JoeBucsFan.com intern
It was hot and humid as the Bucs got set to start their fourth OTA practice of the spring season. Practice was fast-paced with a with a lot of urgency shown from the players.
Here's how Jameis Winston fared:
*Practice begins with footwork drills from the quarterbacks. The QB's are backpedaling between bags and then delivering 25-yard throws down the field. QB Clyde Christensen was heard yelling "Nice Work!" after Jameis executed flawlessly, backpedaling and delivering a perfect strike.
*Next time Jameis was up, he stepped on a bag, causing Christensen to yell "Stay off the bag!"
*QB's move on and start doing a quick-release drill. Jameis takes a few snaps and gets rid of the ball just as soon as he gets it in his hands.
*Next is another drill. The quarterbacks have their backs turned to the coaches. As the whistle is blown, the QB's spin around and deliver throws to a moving coach. Jameis' first couple of throws are high, one resulting in an incompletion. Jameis follows up with some darts his next three times performing the drill.
*The quarterbacks begin drills throwing on the run. Heading toward the right sideline, Jameis throws darts, not missing a pass. The QB's switch sides and start moving toward the left sideline. Jameis misses his first throw on the run moving left but follows up with a strike on the sideline.
*Christensen is still yelling. He wasn't pleased with what he saw from his quarterbacks as they were throwing on the run. This time he goes to them and screams "How many times do we have to do this drill?!"
*After completing the drill, the offense moves to the third field and begins working on the hurry up. The defense wasn't on the field for this drill, so it wasn't much more than a walk-through.
*The quarterbacks and running backs go off and begin handoff drills. Soon after, they begin working on short routes. Jameis completes short passes to Shaun Wilson and Rojo, who Arians said has had a few good practices now dating back to last week.
*In come the receivers for drills. Jameis gets things started with a sharp pass to Godwin on a slant. Next pass is a slant to rookie receiver Cortrelle Simpson, who proceeds to drop the pass. It would be Jameis' only incompletion of the drill.
*Jameis with two sharp passes to O.J. Howard and Mike Evans back-to-back.
*Jameis is able to hook up with Simpson this time on a deep out route. Then Howard again crossing over the middle.
*Jameis hits Godwin on another slant and finishes the drill with completions to Bobo Wilson on a dumpoff pass, and then another slant to Simpson.
* 7-on-7 work gets underway for the first time and Jameis starts the session with a bullet to Chris Godwin on an out route for 10 yards.
*He then follows it up with a dumpoff to Shaun Wilson for a short gain.
*Jameis steps out as each QB takes 2 snaps before stepping out.
*Jameis comes back with another dart to Howard for 15 yards near the sideline.
*Another completion to Ronald Jones by Jameis on a check down before stepping out again.
*Winston comes back with another completion to Howard. Expect a lot of this during the regular season.
*Jameis looks for Andre Ellington on the left sideline but the ball is knocked away by a diving defender. It looked like safety Isaiah Johnson made the play.
*Winston comes back from the small break with another completion to Howard, a 7-yard dump pass followed by a gorgeous 25-yard pass to Mike Evans, who was running a corner route. Beautiful touch by Jameis, exactly where it needed to be.
*In his last two throws of the session, Jameis gets nearly picked off by M.J. Stewart who made a great effort on the pass breakup but couldn't come away with the ball, and tosses a gorgeous sideline pass to Shaun Wilson for 15 yards.
*Linemen join the rest of the team for the first 11-on-11 session of practice.
*Jameis starts yelling "Ace! Ace! Ace!" to his teammates as they hustle to begin the session. Jameis steps in to get started and his first pass to Evans in knocked away by Vernon Hargreaves, who blanketed Evans and was there the whole way.
*Quick completion to Justin Watson on a slant. Jameis then makes a great play with his feet. He evaded the pressure off the edge and delivered a short completion to Shaun Wilson, who took off for 15 yards.
*Jameis continues a strong session with a 6-yard dumpoff to Peyton Barber off play-action, then he completed a pass to Howard again for first-down yardage before stepping off.
*Byron Leftwich speaks with Winston in-between reps.
*Jameis comes back with a screen pass to Wilson off the play-action. Wilson had a lot of room in front and would've had a splash play in a real game.
*In his last play of the first 11-on-11 session, Winston throws an incompletion to Barber along the right sideline.
*The linemen step off and 7-on-7 work kicks off for the second time.
*Winston starts with another sharp pass to Godwin on a slant, good for a 10-yard gain. He comes back with a quick pass toward the left sideline for a short completion to rookie receiver Scotty Miller.
*Incompletion out of the shotgun. Another completion from Jameis to Howard follows for a 4-yard gain.
*RoJo returns and runs a crossing route with Winston finding him for a short completion.
*The running backs stay involved as Wilson brings in a Winston pass on a check down pass on the left side.
*Winston finds Miller again for an 8-yard completion on a hook route. Jameis then finishes the session with another long pass to Evans, who ran a deep comeback, good for 20 yards.
*The kicking unit steps onto the field as the kicker battle trudges on. Jameis steps off to talk with Leftwich in what appeared to be a long, serious and animated discussion. Every time they looked like they were going to step away from each other, one of them ran back with something else to say.
*After finishing his talk with Leftwich, Jameis goes over to Ryan Jensen, who didn't practice today, and talks with him for the rest of the field goal session.
*The offense steps back onto the field for another hurry-up session. Winston completes short passes before spiking the ball. Cairo Santos and Matt Gay come onto the field once each and make their kicks.
*11-on-11 starts back up and now the running game gets involved. Winston starts the session with consecutive handoffs to Barber and Jones, both stretch plays going to the left side. Jones had nothing on the left side and made a slick cutback to the right and was off to the races. His speed showed on that play.
*Jameis goes back to pass on the play action and finds Barber for a nice gain down the right sideline. He then follows up with another handoff to Barber on the right side.
*Wilson gets involved as Jameis takes a high snap and sticks the ball into Wilson's gut on an inside handoff. Wilson finds room right up the middle where there is a large gap waiting for him.
*The passing game gets going again as Jameis fires a dart at Bobo Wilson, but the pass is dropped.
*Overthrow by Jameis after a high snap and a pass rush breathing down his neck.
* Wilson on a screen pass from Jameis with three blockers in front him. Wilson could've been off to the races for a score in a game.
*After an incompletion, Jameis steps out for Blaine Gabbert. Jameis goes over to Christensen, who chats with him for a minute.
*In his first play back in action, Jameis runs the play-action and finds Wilson on a deep in-route. Wilson skies for an incredible catch with 2 defenders near.
*New free agent DE/LB Shaquil Barrett came off the edge and probably would've come away with a sack in a real game.
*Jameis finishes the practice with a dumpoff pass to Barber for 7 yards.
*After practice, Jamies stays on the field to get in extra work with rookie quarterback Nick Fitzgerald. It was only for about 15 or 20 minutes, but Winston stayed out, giving the rookie tips.