Just About Everything Jameis Winston Did At Practice Today
May 14th, 2019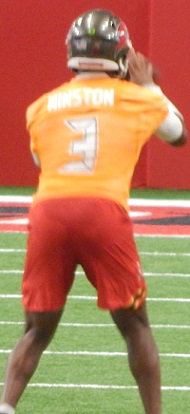 JoeBucsFan.com college intern Zachary Seifter is a very busy man at JoeBucsFan.com world headquarters soaking up all he can. He even exercises good judgment and stays away from Joe's sacred beer fridge and Rachel Watson poster. As part of Seifter's indoctrination, today he was tasked with following every movement of America's Quarterback, Jameis Winston, during the first OTA practice of the season at One Buc Palace.
Enjoy!
*Jameis getting started with some warmup passes with Ryan Griffin (RG4) and Blaine Gabbert.
*After warmups, the QB's move on to footwork drills, Jameis maneuvering left and right between cones flawlessly.
*Next up is some throwing-on-the-run drills, Jameis is moving between cones before taking off delivering bullets into the chests of coaches.
*Jameis spotted talking off to the side with offensive coordiantor Byron Leftwich and Mike Evans.
*In come the running backs to work with the QB's. They start with basic inside handoff drills where there are no slip-ups, followed by simple passes to the RB's. Jameis completes every pass, although he almost missed one to Shaun Wilson, who had to make an adjustment to catch the throw behind him.
*Passes with the receivers and tight ends are next. Jameis looks sharp, delivering some darts into the guts of O.J. Howard and rookie receiver Cortrelle Simpson.
*Breshad Perriman is already looking good, showing off his speed as well as making adjustments to haul in a few not-so-well thrown balls by Jameis.
*The Bucs kick off the 11-on-11 work with two separate sessions on each side of the 50-yard-line. Jamies gets to work with a quick slant to Chris Godwin for a small pickup.
*On the very next play, rookie linebacker Devin White reads a Jameis pass over the middle for a pick! Man, he already looks so quick and comfortable on the field.
*Jameis gets taken out for Gabbert but soon returns to action with a sharp pass over the middle to O.J. Howard for 15 yards.
*Jameis finds Howard again for 5 yards on a comeback route although it looked like the rookie OLB Anthony Nelson would've brought Winston to the ground if it were a real game.
*Jameis finishes the first 11-on-11 session with completions to Mike Evans and Justin Watson for first-down yardage.
*After the water break, the first 7-on-7 session gets underway with Winston missing Evans on a 15-yard pass towards the right sideline.
*Winston follows with a short completion to Canadian tight end Antony Auclair for 3 yards and then an incompletion to Peyton Barber. Winston was under what would've been heavy pressure so he just flung it over Barber's head and out of bounds.
*Gabbert steps in for Jameis and Jameis goes over to the sideline to talk to Godwin. Winston seems very animated as he is moving his hands around trying to show Godwin what he sees on the field.
*After Jameis returns from the sideline, Leftwich steps back to talk to him. Leftwich was very much in Winston's ear today.
*Jameis comes back and completes back-to-back passes to Bobo Wilson, the second being over the middle in open space. Bobo could've turned on the jets and possibly scored on the play.
*Jameis tries to find Perriman on an out route near the right sideline but he is tripped up by rookie CB Jamel Dean, the third-round pick. Very probable that one results in a flag in a game.
*Two plays later, Jameis launches it deep and finds Perriman in the endzone for the touchdown! Jameis sprints over to Perriman after the play for a high-five.
*In the middle of the kicking battle between Matt Gay and Cairo Santos, Jameis is taking coaching from QB coach Clyde Christensen. He is also talking to rookie QB Nick Fitzgerald in the middle of this.
*11-on-11 returns and Winston is heard screaming "Hurry up!" to his receivers. A lot of urgency in today's practice.
*Running backs get more involved in the second session of 11-on-11 play as Winston gets started with a play-action setup that results in a dump off to Peyton Barber. His throw was hurried as a result of what would've been a sack from Noah Spence. Although the pads don't come on until May, Spence showedspeed on the edge today and hurried Winston quite a few times.
*Peyton Barber and Andre Ellington split carries the next few plays, not resulting in much. On one inside handoff, Barber got 4 yards before contact.
*Winston with a checkdown pass to Ronald Jones, but again Spence comes in quick off the edge for what would've been a sack. Carl Nassib came in quick, too, and also would've gotten to Winston.
*After another rushing play to Ellington, Jameis steps off for Blaine Gabbert and stands between Arians and Leftwich. Once again, Leftwich is in Winston's ear.
*Jameis comes back and fires a ball down the seam to Mike Evans for a 35-yard touchdown! Spence provided pressure off the edge and possibly would've had a sack on Winston. It was an incredible catch by Evans as it was slightly overthrown but Evans was able to tip it to himself in the end zone.
*Two more handoffs to RoJo before and after a play-action pass by Winston, one of which went to Peyton Barber for a 10 -yard gain.
*Jameis finishes off practice on a bit of a sour note, completing just 1 of his last 5 passes — to Justin Watson who proceeded to fumble the ball but recover it.
*After practice, Joe asked Bucco Bruce Arians to summarize Jameis' day. The head coach said it looked good aside from the forced pass to White. Earlier, Arians said he doesn't judge practice until he watches the film.