"I Tried To Be A Part Of The Energy And Just Set The New Standard For The Team"
May 14th, 2019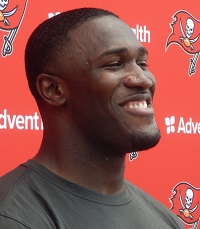 Buccaneers savior inside linebacker Devin White talked to Joe after practice today, following picking off America's Quarterback, Jameis Winston, and working alongside veterans for the first time.
"I felt the extra juice," White said of practicing with the full roster. "One thing I was really happy about is being around some guys that know how to communicate. Because they know the calls and they can kind of help me out a little bit; I know the calls, but they take a lot off me once they talk, as well."
Lavonte David noted it was very special to be working with a rookie communicator like White. Joe's heard similar talk from other Bucs. White is on the details and is vocal.
Practice was at a strong pace for mid-May and perhaps it can be attributed in part to White.
"Oh, I loved the energy. I tried to be a part of the energy and just set the new standard for the team," he said.
Man, a rookie setting "the new standard." That's exactly what Bucco Bruce Arians said he wants from White. It was a big reason he drafted him. (If you missed the linked story, Joe suggests you read it.)
As for intercepting Jameis, business as usual, White told Joe.
"I didn't really feel like nothing. Just normal," White said."Like I just got to make plays. That's what I always did all my life, so I just want to continue. Just keep learning the playbook and try to make plays.
A great Day 1 of OTAs for No. 45.
Joe will share more from White in the coming days.